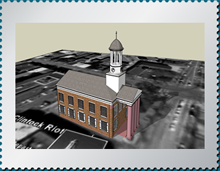 The Harpers Ferry story does not end when John Brown was captured early in the morning on October 18, 1859. While five members of his group managed to escape (including Barclay Coppoc, who later served in the Union army), others were not as fortunate. Albert Hazlett and John Edwin Cook, who were traveling separately, were both arrested in Pennsylvania. Hazlett was captured on October 22 and sent to Carlisle. (House Divided has a
3D model of the courthouse
where his extradition hearing took place). Cook was captured four days later in Franklin County. Both men were sent back to Virginia, where after short trials, they were sentenced to death. The story attracted national attention and reports were published in papers around the country, including from
Illinois
,
Ohio
, and
Kansas
. These reports, however, were not always accurate. The
Cleveland Herald
explained that someone who "[gave] his name as Wm. Harrison" was "arrested…on the suspicion that he was Capt. Cook." William Harrison was actually the name that Hazlett used after his arrest. One can also follow the story in papers published in central Pennsylvania. The Valley of the Shadow has two papers from Franklin County – the
Franklin Repository
and the
Valley Spirit
.
Pennsylvania Civil War Newspapers
also has a number of options, including the Gettysburg Compiler and the Lancaster Intelligencer.