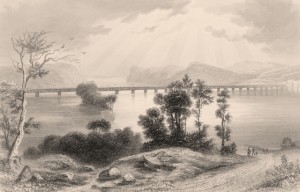 Nineteenth-century historian Robert Clemens Smedley labeled the town of Columbia, Pennsylvania as the birthplace of the organized structure that we now know as the Underground Railroad.  Smedley's posthumously published account of the Underground Railroad's presence in Pennsylvania,
History of the Underground Railroad in Chester and the Neighboring Counties of Pennsylvania
(1883), is available on Dickinson College and Mercersville University's digital collection: "
Slavery & Abolition in the US: Select Publications of the 1800s
."  Smedley narrates the story of the Underground Railroad with Columbia as a key station on the Underground Railroad because of its proximity to the Pennsylvania-Maryland border, just across the Susquehanna River. The Wright family, which founded Columbia in 1726, maintained a sympathetic ear towards the abolitionist cause reflecting their Quaker background. Today the Wright family home,
Wright's Ferry Mansion
, is open to the public for tours. The founder's grandson, William Wright, "
an uncompromising hater of slavery
," became one of the first established agents of the Underground Railroad, setting up a network for escaping slaves in Columbia.  Fergus M. Bordewich, author of the comprehensive Underground Railroad book
Bound for Canaan
(2005) mentions Wright briefly as "hitting on the idea of passing fugitives along from one home to another at intervals of ten or twenty miles, with other friends designated to pilot them in between." Wright's network included Robert Loney (or Loonee), a free black man who "
ferried fugitives
across the [Susquehanna] river in the night at various places below Columbia, and gave them into the care of William Wright." Loney went on to join Company I of the 32nd Regiment of the USCT in 1864 and is buried in Columbia's recently restored
Zion Hill Cemetery
(5th & Linden Streets, Columbia, PA), the burial place of many local black Civil War veterans.  The Pennsylvania "
Quest for Freedom
" tour, which maps the historic locations of abolition-related sites from Philadelphia to Chambersburg, includes a stop in Columbia that highlights the Zion Hill Cemetery.  The USGenWeb Tombstone Transcription Project also includes a
Zion Hill webpage
with recent photos of fourteen USCT headstones.