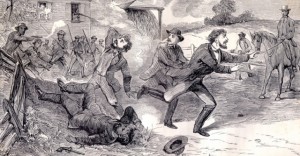 The Christiana Riot took place on September 11, 1851 when Maryland slaveowner
Edward Gorsuch
and several of his relatives attempted to capture fugitive slaves at
William Parker's
house in
Christiana
, Pennsylvania. Gorsuch was killed and several members of his party were wounded in the fight, but Parker and the fugitive slaves escaped to
Canada
. House Divided has several
newspaper articles
and a
diary entry
related to this event, including an
editorial from
Frederick Douglass' Paper
. The African Americans who participated in the riot "are to be tried…for high treason," which Douglass characterized as "the climax of American absurdity." Editors of the Memphis (TN)
Appeal
, however, had a
different perspective
on what they called a "great judicial farce." Instead of facing "charges of which they might by convicted," the
Appeal
criticized prosecutors for their decision "to rest [the case] solely on the law of treason." "The State authorities fail[ed] in their duty and pass[ed] over the real crimes [of] riot and murder," as the
Appeal
observed. Teachers may also want to check out the resources available from "
Slavery & Abolition in the US: Select Publications of the 1800s
," which is a digital collection of books and pamphlets produced by Dickinson College and Millersville University. The site has a number of great sources, including:
A True Story of the Christiana Riot
(1898), which is a recollection by David Forbes, and
The Christiana Riot and the Treason Trials of 1851: An Historical Sketch
(1911),  written by
William Hensel
to commemorate the 60th anniversary. Two of the best secondary sources on this event are Jonathan Katz,
Resistance at Christiana: The Fugitive Slave Rebellion, Christiana, Pennsylvania, September 11, 1851
(1974) and Thomas P. Slaughter,
Bloody Dawn: The Christiana Riot and Racial Violence in the Antebellum North
(1991). While William Parker's house no longer exists, a historical model of the building is available on House Divided's Virtual Field Trips page.  (See
this page
for help in using these files).