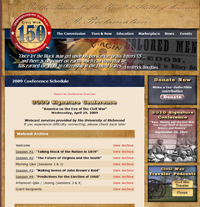 "
America on the Eve of the Civil War
," a conference held in April 2009 and sponsored by the Virginia Sesquicentennial of the American Civil War Commission, is now available online as a Webcast. Sixteen historians participated in this conference, which included four different sessions – "Taking Stock of the Nation in 1859", "The Future of Virginia and the South", "Making Sense of John Brown's Raid", and "Predictions for the Election of 1860." (Each session can be viewed separately.) Interviews are also available – the historians
answer a wide range of questions
, such as "What do we need to better understand about this time period?" and "Are there still lessons for us today from 1859?" You need to have the
Real Media player
installed in order to watch these videos.