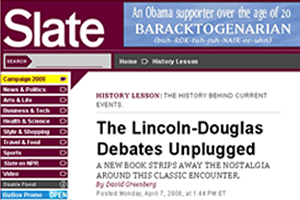 In
this book review
published on Slate.com, historian David Greenberg examines a new book on the Lincoln-Douglas debates,
Lincoln and Douglas: The Debates That Defined America
written by Allen C. Guelzo of Gettysburg College. With campaigning for the upcoming presidential election in full swing, debates will surely play a big role in swaying public opinion toward or away from a particular candidate. With that in mind, it might be an interesting time to reexamine the Lincoln-Douglas debates from a new perspective. According to Greenberg, Guelzo's book helps to demystify the significance of the debates and present a clearer picture of the divergent positions taken by the incumbent Senator Douglas and the up-and-coming Lincoln. This might be a new piece of scholarship worth checking out.