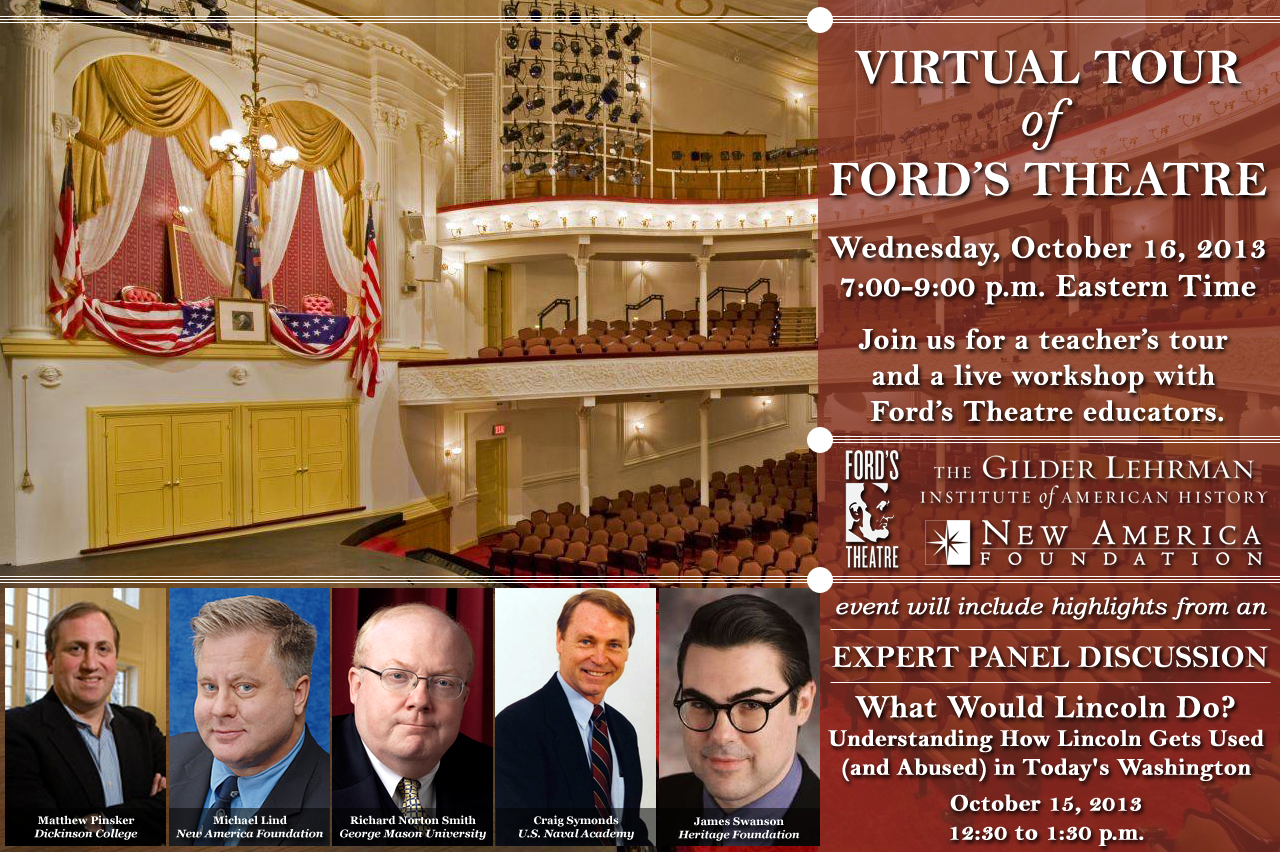 SPECIAL PANEL AT FORD'S THEATRE TACKLES QUESTION,
"WHAT WOULD LINCOLN DO?"  (click below to view)
October 15, 2013

Noted Lincoln historians and top-flight national policy experts debate
how Abraham Lincoln gets used and sometimes abused by Washington policymakers as they invoke his legacy on behalf of their policy positions
Washington, D.C. – A unique partnership of four major non-profit institutions will host a special panel titled, Understanding How Lincoln Gets Used (and Abused) in Today's Washington at Ford's Theatre (511 Tenth Street, NW) on Tuesday, October 15, 2013. The panel of noted historians and policy experts will be filmed and streamed over the Internet as part of an open, online graduate course currently being offered by the Gilder Lehrman Institute of American History and the House Divided Project at Dickinson College.
The Ford's Theatre Society, New America Foundation, House Divided Project, and Gilder Lehrman Institute are the four co-sponsoring institutions for this unique panel, which promises to offer a wide-ranging discussion of ways that modern policymakers have sometimes tried to channel Abraham Lincoln's example in formulating and selling their policies. The panelists will debate whether Lincoln's legacy has been used or abused in the modern context, and will offer their own assessments about how (or whether) to apply Lincoln's lessons to some of the challenges of modern times. Panelists include:
* Moderator: Matthew Pinsker, Pohanka Chair for Civil War History, Dickinson College and Fellow, New America Foundation
* Michael Lind, Policy Director, Economic Growth Program, New America Foundation and author What Lincoln Believed (2006)
* Richard Norton Smith, noted presidential historian, George Mason University and former founding director, Abraham Lincoln Presidential Library and Museum
* Craig Symonds, Emeritus Professor of History, U.S. Naval Academy and Lincoln Prize-winning author, Lincoln and His Admirals (2008)
* James L. Swanson, Senior Scholar, Heritage Foundation and best-selling author, Manhunt (2006)
This is event is free and open to the press. Interested media should contact Lauren Beyea at lbeyea@fords.org to reserve tickets. Advance tickets may also be reserved via Ticketmaster (fees apply) or at the Ford's Theatre Box Office (no fee) beginning September 16, 2013. For more information, visit http://www.fords.org/event/what-would-lincoln-do. The session will also be available for online viewing the next day in conjunction with a live teacher's session and filmed virtual tour of Ford's Theatre that will run from 7 p.m. to 9 p.m. EST (Oct. 16, 2013) at the "Understanding Lincoln" Livestream webpage: http://new.livestream.com/gilderlehrman/lincoln
Event summary:
Understanding How Lincoln Gets Used (and Abused) in Today's Washington
Ford's Theatre (511 Tenth Street, NW, Washington, DC)
October 15, 2013
12:30 p.m. to 1:30 p.m.
About Ford's Theatre
One of the most visited sites in the nation's capital, Ford's Theatre reopened its doors in 1968, more than a hundred years after the assassination of President Abraham Lincoln. Operated through a partnership between Ford's Theatre Society and the National Park Service, Ford's Theatre is the premier destination in the nation's capital to explore and celebrate Abraham Lincoln's ideals and leadership principles: courage, integrity, tolerance, equality and creative expression.
About the New America Foundation
The New America Foundation is a nonprofit, nonpartisan public policy institute that invests in new thinkers and new ideas to address the next generation of challenges facing the United States. To learn more, please visit us online at www.newamerica.org or follow us on Twitter @NewAmerica
About the Gilder Lehrman Institute of American History 
Founded in 1994, the Gilder Lehrman Institute of American History is the nation's leading nonprofit provider of K–12 teacher training and classroom resources. Our programs promote excellence in the teaching and learning of American history. Gilder Lehrman programs include Teacher Seminars, a national Affiliate School Program, online courses, Traveling Exhibitions, online materials, and more for teachers, students, and the general public. Visit www.gilderlehrman.org to learn more.
About Dickinson College
Dickinson College, founded in 1773, is a highly selective, private residential liberal-arts college known for its innovative curriculum. Its mission is to offer students a useful education in the arts and sciences that will prepare them for lives as engaged citizens and leaders. The 180-acre campus of Dickinson College is located in the heart of historic Carlisle, Pa. The House Divided Project at Dickinson, directed by history professor Matthew Pinsker, specializes in building digital resources on the Civil War era for K-12 and undergraduate classrooms.  To find out more about the project and its flagship online course, "Understanding Lincoln," go to http://housedivided.dickinson.edu/sites/
###
MEDIA CONTACT: Lauren Beyea at lbeyea@fords.org