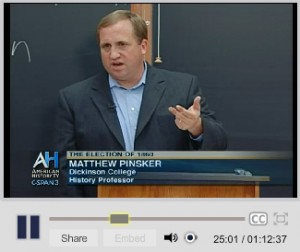 On Saturday morning, April 16, 2011,  Matthew Pinsker will lead a teacher workshop focused on introducing educators to a variety of the best online resources for the study of the Civil War including many of the new tools provided by the House Divided Project. America's Civil War magazine has already dubbed House Divided as "one of the most compelling sesquicentennial online projects" and predicts the site "will become a great resource for synthesizing many seemingly disparate elements of how and what we learn and teach about the Civil War." Bloggers have been equally enthusiastic.  One history teacher / blogger claims that House Divided "will be invaluable in U.S. History classrooms."
Breakout sessions will include hands-on computer demonstrations, focus groups and special sessions on particular topics related to Abraham Lincoln  and the outbreak of the war.
Matthew Pinsker is the Brian Pohanka Chair of Civil War History at Dickinson College and Co-Director of the House Divided Project.  He is the
author of Lincoln's Sanctuary: Abraham Lincoln and the Soldiers' Home (2003).  During the last five years, he has led professional development workshops on the
Civil War era for more than 1,500 teachers from 45 states.
Registration
If you would like to attend, please complete the form below. If you have any questions, contact us at hdivided@dickinson.edu
Loading…
Details
Date – Saturday April 16, 2011
Time – 9am to 12pm
Location – Denny Hall, Room 317 (High & West Streets)
Cost – Free
Registration – Required
General questions? Contact Don Sailer hdivided@dickinson.edu
Media queries? Contact Christine Dugan duganc@dickinson.edu or 717-245-1180
We are grateful to the following sponsors and partners for their support: