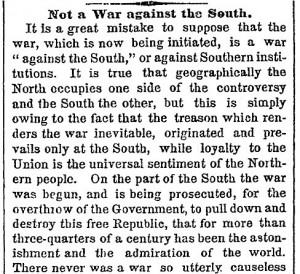 One hundred fifty years ago today the New York Times argued that anyone who described the Civil War as a war "against the South" and "Southern institutions" had made "a great mistake." The only reason that President Abraham Lincoln had called for 75,000 troops after the Confederate attack on Fort Sumter was to restore the Union. "What [northerners] demand of the seceding States is, not that they shall change their domestic institutions, their Constitutions, their policy or their laws, but that they shall return to their allegiance to the Government," as the New York Times explained. While soldiers were prepared to "fight to the death against the traitors," the New York Times noted that they "have no lust of conquest…[or] thought of subjugation." Not only was slavery not an issue, but the New York Times pointed out that the new southern government  did not represent a significant change:
The Constitution of the Federal Government in all its essential features has been adopted as the organic law of the new Confederacy, while the Constitutions of the States themselves remain unchanged. Their relations to the central Government differ in no material respect from their relations to the Government at Washington.
Yet despite this fact southerners had "rush[ed] into rebellion as if the overthrow of government and the initiation of a bloody civil war were no crime." In addition, the New York Times predicted what would happen after the war. While the "hanging of individual traitors and the scattering of demagogues" might occur, the New York Times believed that "the seceding States… will come back with all their rights unimpaired, their sovereignties fully guaranteed, and their domestic institutions as subject to their own control as are those of New York to-day." You can read more about the New York Times during this period in Augustus Maverick's Henry J. Raymond and the New York Press, for Thirty Years (1870) and Francis Brown's Raymond of the Times (1951).