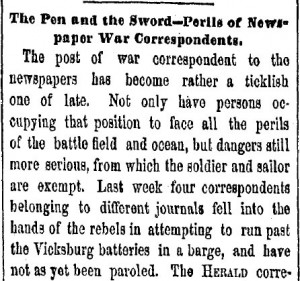 Correspondents from the New York Herald and other newspapers faced numerous problems in reporting during the Civil War. While "General Grant [was] not afraid of newspaper criticism," the New York Herald described that others "generals exhibit[ed]…excessive sensitiveness to criticism." These generals put in place "stringent measures" against newspapers and in some cases even arrested reporters. As the New York Herald explained:
"Liable to be cashiered or put to hard labor by our own generals, to be tried and hung as spies by the rebels, or to encounter the dangers without receiving any of the rewards or the honors of the soldier, they exhibit an amount of spirit and nerve which, perhaps, no other class of men are capable of."
You can read the full editorial here.