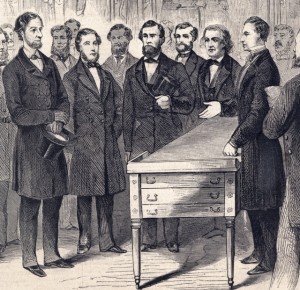 One hundred fifty years ago
today
the Charleston (SC)
Mercury
published
part of New York City Mayor
Fernando Wood's
speech that he gave during President-Elect
Abraham Lincoln's
visit in late February 1861. Lincoln had left his home in Springfield, Illinois on
February 11
for Washington DC. On the way he stopped at a number of cities, including
Albany
,
Cleveland
,
Columbus
,
Indianapolis
,
Pittsburgh
, and
Philadelphia
. While Lincoln arrived in
New York City
with
his wife
on February 19, he did not meet with Mayor Wood until the afternoon of February 20. The Charleston (SC)
Mercury
described
"Mayor Wood's address of welcome to the Abolition President" as "too good to be lost." As Lincoln entered "office with… a disconnected and hostile people to reconcile," Wood told the President-Elect that "it will require a high patriotism and an elevated comprehension of the whole country and its varied interests, opinions and prejudices to so conduct public affairs as to bring it back again to its former harmonious, consolidated and prosperous condition." In addition, Wood warned that "[New York's] material interests are paralyzed" and "her commercial greatness is endangered." Yet Wood also supported southern Democrats and he wanted the crisis to be resolved through compromise. Wood noted that he expected Lincoln to use "peaceful and conciliatory means" to ensure the "restoration of fraternal relations between the States."
Lincoln responded
the same day to Wood's remarks, noting that "there is nothing that can ever bring me willingly to consent to the destruction of this Union." The following day Lincoln
left for Trenton, New Jersey
. You can read more about President-Elect Lincoln's journey from
Springfield
to
Washington, DC
in Harold Holzer's
Lincoln: President-Elect
(2008).