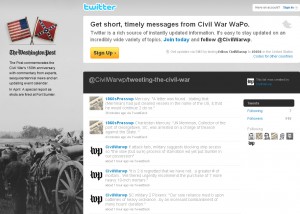 One way to keep up with the 150th anniversary of the Civil War is through the
Washington Post's
Civil War twitter account
. Every day they tweet details on events that occurred 150 years ago. As Mississippi seceded on January 9, 1861, the
Washington Post
noted
"Miss secedes: 'Our position is thoroughly identified with the institution of slavery -- the greatest material interest of the world.'" Unfortunately the tweets with quotes are not linked to any sources. The
Washington Post
also has created several other features for the 150th anniversary, including a "
Timeline: The Road to Civil War
" and a photo gallery on "
Washington, D.C.: 1860 and today
." In addition, the
Washington Post's
"
A House Divided
" blog includes posts by Civil War historians on a variety of topics as well as announcements on events related to the 150th anniversary.
Harold Holzer
,
Chandra Manning
, and
Frank Williams
have discussed in recent posts the reasons why President-Elect Abraham Lincoln was silent after his election. Other interesting posts include
Gary Gallagher
and
David Blight
on "Could the war have been prevented?" All of the
Washington Post's
features on the Civil War are available on
this page
.