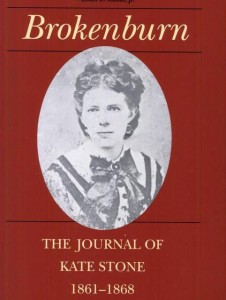 Kate Stone
was twenty-years-old when
Fort Sumter
fell to Confederate forces. She was thrilled. Stone was an ardent southern nationalist from
Louisiana
who lived on a large plantation (Brokenburn) with many slaves and an extended family, including at least two brother who would die in the Confederate army. Within a month after Sumter, Stone began a diary the she kept for seven years. The material was full of biting insights and wise comments. Stone lived through General
Ulysses Grant's
Vicksburg Campaign in 1863 and feared the arrival of
black troops
into the region. After African Americans entered military service,
Stone argued
that "the Paternal Government at
Washington
has done all in its power to incite a general insurrection throughout the South, in the hopes of thus getting rid of the women and children in one grand holocaust." She and her family fled to
Texas
in 1863 and lived there until the end of the war. The young plantation mistress was suitably unimpressed by Texans and frontier life. Stone's sardonic tone appeared frequently in her journal and sometimes was especially hardened.  Following
Lincoln's
assassination, she remarked on her satisfaction at his fate. "All honor to
J. Wilkes Booth
, who has rid the world of a tyrant and made himself famous for generations,"
she wrote
.  Stone returned to Brokenburn –which had been devastated by the war—helped rebuild the place, married in 1869 and lived until 1907. When her diary was published in 1955, it was to wide acclaim, hailed by critics such as Edmund Wilson and by crowds –an estimated 10,000 folks in Louisiana including her 77-year-old daughter (who lived until 1972) and has since become regarded as a Civil War classic, though it is not as well known and familiar as
Mary Chesnut's
diary.