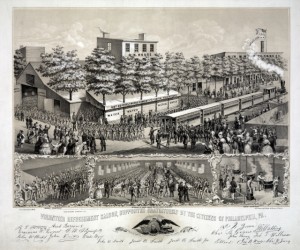 House Divided is in the process of adding interactive essays to the database as a part of its Journal Divided project.  I created
an essay on the Philadelphia refreshment saloons
that specifically focused on the Cooper Shop Volunteer Refreshment Saloon and its contribution to the city's home front relief efforts during the Civil War.  The Cooper Shop opened on May 26, 1861 and went on to add a hospital in October that cared for sick and wounded soldiers throughout the duration of the war.  Although larger refreshment saloons formed in the city, Philadelphia's residents warmly remembered the Cooper Shop because of the dramatic individual efforts of its three leaders: 
William M. Cooper
, the president of the establishment, Dr.
Andrew Nebinger
, the head surgeon of the Cooper Shop Hospital, and
Anna M. Ross
, the Lady Principle of the hospital.   Visiting physicians such as Dr. C.E. Hill described the positive atmosphere created by the committee's hospitality and
claimed
, "soldiers were never better cared for than in this hall."  The refreshment saloons are still remembered in modern scholarship as historian J. Matthew Gallman
commented
, the saloons "greatest benevolent contribution cannot be measured by returns on ledger sheets, but by the long hours devoted to sewing clothes, cooking food, and ministering to wounded soldiers."  The saloons closed in late August 1865 as the war came to an end and they were no longer needed. For more interactive essays, visit the
Journal Divided
Site.  Click on any of the images below to view a slide show of the Philadelphia Volunteer Refreshment Saloons during the Civil War in Flickr.