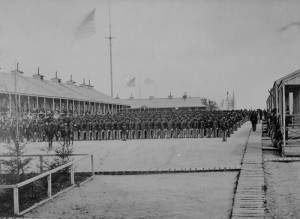 Camp William Penn in Chelten Hills, Pennsylvania opened as a training ground for African-American troops on June 26, 1863 with about eight men present.  Approximately eleven thousand former slaves and free African-Americans received training here under the leadership of Lieutenant-Colonel Louis Wagner.  Over the course of the war at least eleven regiments formed at Camp William Penn including the 3rd, 6th, 8th, 22nd, 24th, 25th, 32nd, 41st, 43rd, 45th, and 127th Infantries.   Led by Colonel Benjamin C. Tilghman, the 3rd Regiment United States Colored Troops became the first to depart from camp on August 13, 1863.  The soldiers from Camp William Penn went on to fight at Fort Wagner , the Battle of Olustee, and the Battle of New Market Heights (Chaffin's Farm).  The Civil War Preservation Trust's website offers an article regarding the participation of USCT Troops in the Battle of New Market Heights and a detailed map of the area.  George Washington Williams said, "The regiments that went from this camp were among the best in the army.  Their officers had been carefully selected and specially trained in military school under competent teachers, and the troops themselves were noted for intelligence, proficiency, and pluck."  Famous historical figures such as Frederick Douglass and Lucretia Mott lived near the camp or visited the troops occasionally.  Many appeals were made to African- Americans to join the Union Army in newspapers such as The Liberator in Boston:
"Men of color!  We speak to you of your country, of the land where God in his mysterious providence has placed you to work out his inscrutable purposes.  Yet you have been strangers in a land of strangers, and it is now for you to decide whether that land shall be to you and your children more in the future than it has been in the past.  We can make no promises, but we have an abiding faith that the Almighty has not visited us with tribulation in wrath, but in mercy; that you and we, thus tried in the fiery furnace, if true to ourselves and to Him, shall emerge purified and redeemed from the sins and the wrongs of the past."
Another resource that may be of value for teachers is Donald Scott's article titled "Camp William Penn's Black Soldiers in Blue" that gives a concise overview of the troops stationed at the camp as well as an insight into the interaction between the African-American and white soldiers.  Also available in limited view through Google Books is Cheltenham Township which provides some background information and photographs on the area where the camp formed, and includes mention of Camp William Penn and its basic purpose.