Escape to Freedom!
A classroom resource for a lesson on fugitive slaves.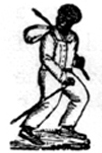 The images below represent some of the twenty-nine advertisements in southern newspapers that in William Still reproduced in his book entitled The Underground Railroad and published in Philadelphia in 1872. All of the cases are actual and refer to men and women who reached the office of Still's Vigilance Committee in Philadelphia and there received assistance. Each of the stories is told in the book, on the pages indicated. Still's book has been digitized and placed on line, simply click on the links either above or below. Page number links should take you directly to that page in the book's image viewer.
All twenty-nine advertisements are provided for downloading and printing for class use. (Images have been prepared and oriented for best printing results; right click on the "print image" link and select "print") The first six reproductions are provided to give you a flavor of the resource -- the remaining twenty-three are also available through the links below.
Instructors will know their students the best but possible uses for these resources could include assigning each a "case" for study or role-playing. Younger students might be especially engaged if they share the names of these very brave people striking out for their freedom.
June 1856
Alfred's story is in Still's book, on page 388

November 1856
These men's story is in Still's book, on page 272

August 1856
Emeline's story is in Still, page 157. This advertisement was in the Baltimore Sun.

November 1857
Edgar's story is in Still's book, on page 425

The story of Rebecca and her family is in Still's book, on page 326.

March 1856
Tom Mathew's story is in Still's book, on page 324