Posted by: admin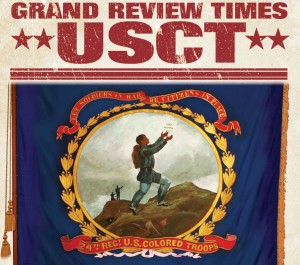 A number of media groups filed reports on the Pennsylvania Grand Review that took place in Harrisburg last week between November 4 – 7. "Saturday's colorful parade touched everyone who saw it," as Charles Thompson of the Patriot-News explains. The parade on November 6 included over 100 reenactors, which as Thompson notes, makes the Grand Review "one of the largest gatherings of U.S. Colored Troops reenactors anywhere." "Recalling these soldiers now — at the onset of what surely will be five years of reflection on the 150th anniversary of the Civil War — underscores the value of their special role in fighting that war and the historic role played by Harrisburg," as the Patriot-News Editorial Board observes. Pennsylvania Governor Ed Rendell also attended the event.
Click on the links below to watch the videos
Read other articles about the Grand Review from newspapers across the state
Altoona Mirror, November 15, 2010
"A group of veterans from across the state got their due homage Sunday afternoon… During a ceremony at Huntingdon's Riverview Cemetery, five new headstones for Civil War Colored Troops veterans were dedicated after the original headstones became unreadable." Click here to full article
Centre Daily Times, November 15, 2010
"Marking the 145th anniversary of that event, Sunday's review in Bellefonte was one of several held across the state to recognize the more than 8,000 men from 11 black regiments who represented Pennsylvania in the Civil War. Of those men, 25 received the Medal of Honor." Click here to full article
Daily Local News, November 16, 2010 (Chester County)
"Sunday's event included re-enactors, such as the Bradbury Camp Sons of Union Veterans of the Civil War, Bill Vosselers's Confederate Civil War Re-enactment, and a group of students from Cheyney University portraying two black Union soldiers…. During her invocation, the Rev. Delores J. Loper said that as she looked out on the ground before her, it was clear many had died so we could enjoy freedom." Click here to full article
Delco Times, November 15, 2010
"Eden also serves as the final resting place for the most black Civil War veterans in Pennsylvania — possibly the most Civil War veterans of any color or creed in the state. On Sunday members of the 3rd Regiment U.S. Colored Troops Civil War re-enactors honored them with a rifle salute and wreath-laying as part of a 150th anniversary observance of the Civil War." Click here to full editorial Also see this article about the event.
Meadville Tribune, November 15, 2010
"Inscribed on the stone is the statement of its purpose: "In Honor of the United States Colored Troops of the Civil War Buried in Crawford County." Those memorials were dedicated during a special ceremony Sunday in Greendale Cemetery, one of 42 cemeteries throughout Pennsylvania that hosted public services to pay respect to the roles and sacrifices of African-Americans who enlisted and fought in the Civil War." Click here to full article
Tags: Videos