Posted by: admin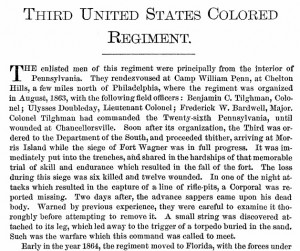 The 3rd USCT Regiment, which was organized in August 1863, was the first unit to receive training at Camp William Penn, located outside of Philadelphia. (You can read about this regiment's flag raising ceremony in a previous post). The War Department initially sent this regiment to South Carolina, where it was involved in the campaign to seize Fort Wagner:
"Soon after its organization, the Third was ordered to the Department of the South and proceeded thither, arriving at Morris Island while the siege of Fort Wagner was in full progress. It was immediately put into the trenches, and shared in the hardships of that memorable trial of skill and endurance which resulted in the fall of the fort. The loss during this siege was six killed and twelve wounded. In one of the night attacks which resulted in the capture of a line of rifle pits, a Corporal was reported missing. Two days after, the advance sappers came upon his dead body. Warned by previous experience, they were careful to examine it thoroughly before attempting to remove it. A small string was discovered attached to its leg, which led away to the trigger of a torpedo buried in the sand. Such was the warfare which this command was called to meet."
This regiment was sent to Florida in early 1864 and remained there until it was disbanded in October 1865. You can read the full summary of the 3rd USCT Regiment's actions during the Civil War as well as see the complete muster roll here.
(Courtesy of Google Books – Samuel P. Bates, History of Pennsylvania Volunteers, 1861-5 (Harrisburg: B. Singerly, 1871), 5: 925-942.)