Prince Rivers was born enslaved in South Carolina but became famous as a free man and soldier on January 1, 1863.  You can read more about his role in celebrating Emancipation Day in Beaufort, South Carolina as color sergeant in the First South Carolina Volunteers here, but this post contains additional biographical information about this important but still largely obscure nineteenth-century American.
Congressional confiscation acts (August 6, 1861 and July 17, 1861) effectively freed thousands of slaves, including one remarkable black soldier in the Union army.  Prince Rivers, a former slave who became the color bearer of the 1st South Carolina Volunteers, received the following document from General David Hunter on August 1, 1862:
Headquarters, Department of the South
Port Royal, S.C.  August 1st, 1862
"The bearer, Prince Rivers, a sergeant in First Regiment S.C. Volunteers, late claimed as a slave, having been employed in hostility to the United States, is hereby agreeably to the law of 6th of August, 1861, declared free for ever.  His wife and children are also free."
D.Hunter
Maj.-Gen. Commanding
[Reprinted in Frank Leslie's Illustrated Newspaper, August 30, 1862]
Hunter's decision to attempt to use congressional confiscation policy to "free" Rivers and hundreds of other black men who had served in his black regiment was the result of a bitter controversy over whether or not he was properly authorized to employ black troops.  Historian Daniel W. Crofts deftly explains the firestorm over Hunter's early (and stillborn) experiment in raising black troops in a recent post for the "Disunion" series by the New York Times.
Rivers, however, never regretted his unpaid service in "Hunter's Regiment."  On November 4, 1863, Rivers told a public gathering in Beaufort:
"Now we sogers are men –men de first time in our lives.  Now we can look our old masters in the face.  They used to sell us and whip us, and we did not dare say one word.  Now we ain't afraid, if they meet us, to run the bayonet through them."
[Source:  Leon Litwack, Been in the Storm So Long, p. 64; Report of the Proceedings of a Meeting Held at Concert Hall, Philadelphia, on Tuesday Evening, November 3, 1863, To Take Into Consideration The Condition of the Freed People of the South (Philadelphia, 1863), 22.  Full text of Rivers's speech, delivered in Beaufort on November 4, 1863 and as originally reported on November 9th by the New York Tribune, can be found at the Internet Archive here.
Rivers had been a house servant and coachman for his master, Henry Middleton Stuart, Sr. (1803-1872) or H.M. Stuart.  The mistress at the Oak Point or Pages Point plantation (located in the Beaufort District by the Coosaw River) was Ann Hutson Means Stuart (1808-1862).  The Stuart's children included Ann (1827-1905), Isabel (1831-1873), and Henry Jr. (or Hal) (1835-1915) who served as an officer (eventually captain) for the Beaufort Artillery Battery and later became a leading medical doctor in Beaufort. [Genealogy information on Stuarts comes from Frances Wallace Taylor, Catherine Taylor Matthews, and J. Tracy Powers, eds., The Leverett Letters:  Correspondence of a South Carolina Family, 1851-1868 (Columbia: University of South Carolina Press, 2000).  After the war, Rivers tried to exact some measure of revenge by obtaining part of the Stuart plantation.  A letter he wrote to Union general Rufus Saxton in 1865 made the request:
Morris Island, South Carolina    November 26, 1865
General,
I have the honor to ask for a understanding.  I was told that the Government has given Land to Soldiers. If this land were given will [it] be just for the time being or will [it] be hereafter held by the Soldiers? I would like very much to know if any Part of the Mainland.  If so I would like to get a piece on Mr. H.M. Stuart plantation, Oak Point, near Coosaw River.
Prince Rivers, Color and Provost Sergeant
[Source:  Dorothy Sterling, ed., The Trouble They Seen: The Story of Reconstruction in the Words of African Americans (New York: Doubleday, 1976), 37]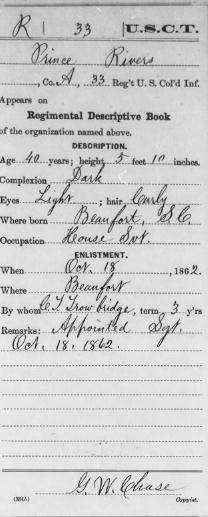 Col. Thomas Wentworth Higginson, who had commanded the First South Carolina Volunteers, wrote a  glowing profile of his men and Sergeant Rivers for the Liberator on February 24, 1865.  Higginson claimed, "There is not a white officer in this regiment who has more administrative ability" than Prince Rivers, adding, "No anti-slavery novel has described a man of such marked ability."  About his color bearer, Higginson concluded, "if there should ever be a black monarchy in South Carolina, he will be its king."
Rivers actually did become an important political leader in South Carolina during Reconstruction and played an especially pivotal role as a judge during the 1876 Hamburg Massacre.  His activities during the post-war period attracted a great deal of attention, including  this hostile portrait and this dismissive story from the Atlanta Constitution.  The story of Prince Rivers thus sadly embodies the glorious hope and the bitter betrayal of emancipation's promise.  His triumphal moment on January 1, 1863 captured by Frank Leslie's Illustrated Newspaper became his tragic inability as a beleaguered black Trial Justice to stave off violence in Hamburg, South Carolina during the 1876 campaign.
The Anderson (SC) Intelligencer carried a terse death notice for Rivers on April 28, 1887: "Prince Rivers, who was a leader among the negroes in radical times and prominent in the Hamburg riots, died in Aiken a few days ago." The Watchman and Southron in Sumter, South Carolina added some additional details a few days later, noting that Prince Rivers had "died at his home in Aiken on Sunday, 10th inst. of Bright's disease of the kidneys, in the sixty-fifth year of his age"  (May 4, 1887).  NOTE –Both  newspapers are available freely online from Chronicling America project sponsored by the Library of Congress and National Endowment for the Humanities.
To read more about Prince Rivers, go to our exhibit at Google Arts & Culture, entitled, "The Prince of Emancipation."