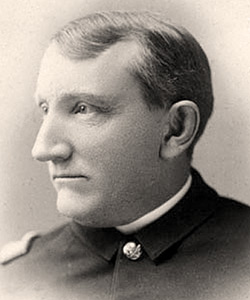 The Carlisle Indian Industrial School opened on the grounds of the old Carlisle Army Barracks in October 1879. Even General William T. Sherman had supported the move, as he had noted that the Carlisle Barracks had "long since ceased to be a military point in the U.S." US Army Captain Richard Henry Pratt, who had lobbied key politicians like Secretary of Interior Carl Schurz and Secretary of War George McCrary, was appointed as the first Superintendent. Pratt traveled to a number of Indian reservations in the western United States to recruit students for the school. Four months after the first students arrived in Carlisle, the school's enrollment was close to 150 students. Twenty years later the school would be home to about 1,000 students each year. Pratt's overall objective with the Indian School was to assimilate Native American students into American culture. Students had to attend English classes and learn skills that were supposed to help them find jobs after graduation. Photographs in the slideshow below show students at work inside a print shop and a tin shop. Yet as historian Jon Reyhner point out, the graduates "were sent home to their reservations where there were few jobs." Pratt remained in Carlisle until his public criticism of President Theodore Roosevelt's Bureau of Indian Affairs policy lead to the War Department forcing him to resign in 1904. One student later explained that while Pratt was a "rigid disciplinarian," he was also "a kind and fair man with a great human warmth." Other students, however, reflected on the hardships that they endured while in Carlisle. "Never had I experienced such homesickness as I did then," as a grand nephew of Sitting Bull noted.
Captain William A. Mercer, who had served with the 7th United States Cavalry, replaced Pratt as superintendent. Several other US Army officers also lead the school before the War Department decided to shut the Indian School in 1918 and open General Hospital No. 31 at the barracks. This hospital, which functioned as a rehabilitation center, remained open for two years before the War Department replaced it with the Medical Field Service School. Today the Carlisle Barracks is home to the US Army War College. Check their website for important information if you plan on visiting. You can find digital photograph collections on the Carlisle Indian school at the U.S. Army Military History Institute and the Library of Congress. In addition, you can visit the Cumberland County Historical Society to see their exhibit on the school.
You can learn more about the Carlisle Indian School in Richard Henry Pratt's Battlefield and Classroom: Four Decades with the American Indian, 1867-1904, Robert M. Utley, ed. (1964), Michael C. Coleman's American Indian Children at School, 1850-1930 (1993), David Wallace Adams' Education for Extinction. American Indians and the Boarding School Experience, 1875-1928 (1995), Genevieve Bell's Telling Stories out of School: Remembering the Carlisle Indian Industrial School, 1879-1918 (1998), and Jon Allan Reyhner's American Indian Education: A History (2004).