Posted by: admin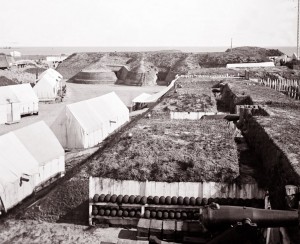 On September 8, 1865, the New York Tribune commented on the unusual amount of fanfare the 54th Massachusetts Volunteer Infantry received on their return to Boston. The author of the editorial explained the public response reflected the 54th's status as the first northern regiment of black soldiers and the reputation the regiment earned as being "the one on whose good conduct depended for a long time the success of the whole experiment of arming black citizens in defence of the Republic." Edwin Stanton, the Secretary of War, gave Massachusetts governor John A. Andrew permission to begin recruiting black troops on January 26, 1863. Andrew carefully hired officers to lead the black regiment, including the regiment's future commander Colonel Robert Gould Shaw, because the 54th was in his opinion "perhaps the most important corps to be organized during the whole war." The 54th is well known for their participation in the assault on Fort Wagner, South Carolina on July 18, 1863. The same Tribune article equated the battle's significance to African-Americans as "Bunker Hill has been for ninety years to the white Yankees." Captain Luis F. Emilio of Company E published a reflective history of the 54th, A Brave Black Regiment… (1894), which is partially available on Google Books. HistoryNet, as mentioned in this previous post, has also published a background article on 54th regimental history that originally appeared in the October 2000 issue of American History magazine.
Members of the 54th who resided in Pennsylvania include:
Sergeant William Harvey Carney of Company C (1840-1908): received a Medal of Honor in 1900 for keeping the regiment's colors from falling to the ground after Colonel Robert Gould Shaw was shot during the assault on Fort Wagner, the earliest African-American action to be recognized with a Medal of Honor.
Private John Henson of Company C (1843-1880): reassigned to the Ordinance Department of his regiment from November 1864 to February 1865.
Private George Ellender of Company G (1830- ): wounded on February 20, 1864 during the Battle of Olustee, Florida.
Sergeant Albanus S. Fisher of Company I (1831- ): became a district deputy grand master in 1867 of the First Independent African Chapter of North American (the black freemasons) in Pennsylvania.
Private George Brummzig of Company I (1843- ): buried in the Zion Union Cemetery in Chambersburg, Pennsylvania.
Private Jacob Christy of Company I (1844- ): wounded on July 18, 1863 during the assault on Fort Wagner in South Carolina.
Private Wesley Krunkleton of Company K (1839-1902): wounded just above right knee in the engagement on James Island on July 16, 1863.
Private John Shirk of Company K (1843-1913): wounded in foot when helping to remove a canon near Mount Pleasant by Charles City, South Carolina in August 1865.