Posted by: admin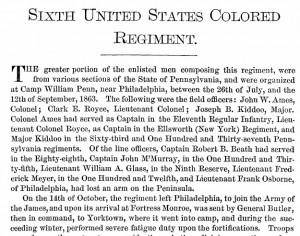 The 6th USCT Regiment was composed mainly of Pennsylvania men, and was organized at Camp William Penn between July and September 1863.  In October, the regiment was assigned to the Army of the James and stationed near Yorktown, Pennsylvania.  The regiment was also part of a plan to release Union prisoners from Belle Isle near Richmond, Virginia.  After a grueling march in early February 1864, the Union forces arrived to find the Confederate forces prepared to meet them, and the battle was lost.  Afterwards, the regiment was posted near Petersburg building earthworks which Confederate forces attacked in May, prompting a successful counterattack in June 1864:
"On the 15th of June, the Sixth, together with the Fourth, Fifth, and Twenty second Colored, attacked the left of the rebel earth works in front of Petersburg, and by a determined charge carried the position, resting at midnight within the enemy's strong fortifications. Early on the morning of the 16th, the colored soldiers of the Army of the James, hailed for the first time, the battle flags of the Army of the Potomac, a division under General Birney, marching in to their relief. The capture of these strong works by the colored troops, was well calculated to inspire respect among the veterans, now rapidly arriving from the Wilderness campaign, for none knew better than they how to appreciate valor. Until near the close of August the Sixth was kept almost constantly on duty in the trenches in front of Petersburg."
On September 29, 1864, the 6th USCT Regiment fought in the Battle of Chapin's Farm, which resulted in disastrous casualties for the regiment (of the 367 men entering the battle, 210 were killed, wounded, or missing by the end).  After this battle, the regiment was sent to North Carolina, where it served until the Confederate surrender in April 1865.
You can read the full summary of the 6th USCT Regiment's actions during the Civil War as well as see the complete muster roll here.
(Courtesy of Google Books – Samuel P. Bates, History of Pennsylvania Volunteers, 1861-5 (Harrisburg: B. Singerly, 1871), 5: 943-964.)