Posted by: admin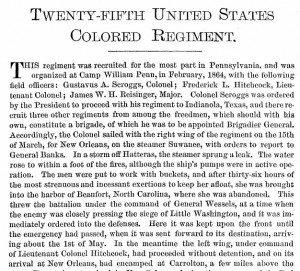 After being organized in January 1864, the 25th USCT Regiment was deployed to Texas, although it never reached its intended destination.  The steamer that carried the regiment was caught in a storm and sprung a leak, and the men barely kept her afloat long enough to dock safely in the North Carolina harbor.  The regiment arrived in New Orleans in May 1864 just as the Confederates were gaining the upper hand in the Red River Campaign; therefore, instead of continuing on to Texas, the regiment was sent to Florida for garrison duty.  In January 1865, the government ordered the 25th USCT Regiment into active duty as part of an effort to organize a division composed entirely of African-American troops.  However, the regiment was deemed too inexperienced to take part in any active field operations, and its numbers dwindled as a result of an outbreak of scurvy due to poor nutrition.
Colonel Frederick L. Hitchcock said of the 25th USCT Regiment:  "I desire to bear testimony to the esprit du corps and general efficiency of the organization as a regiment, to the competency and general good character of its officers, to the soldierly bearing, fidelity to duty, and patriotism of its men.  Having seen active service in the Army of the Potomac prior to my connection with the Twenty-fifth, I can speak with some degree of assurance.  After a proper time had been devoted to its drill, I never for a moment doubted what would be its conduct under fire.  It would have done its full duty beyond question.  An opportunity to prove this the Government never afforded and the men always felt this a grievance."
You can read the full summary of the 25th USCT Regiment's actions during the Civil War as well as see the complete muster roll here.
(Courtesy of Google Books – Samuel P. Bates, History of Pennsylvania Volunteers, 1861-5 (Harrisburg: B. Singerly, 1871), 5: 1026-1046.)