Posted by: admin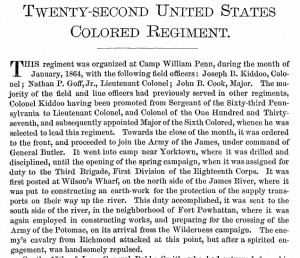 The 22nd USCT Regiment was organized in January 1864 at Camp William Penn in Pennsylvania.  The regiment joined the Army of the James, Eighteenth Corps near the end of that month, and was assigned to construct earthworks along the James River for protecting supply lines.  In June,  the Eighteenth Corps participated in the siege of Petersburg, for which the 22nd USCT regiment received great acclaim:
"The Twenty second headed the charge in this assault and captured six of the guns taken by the division and two of the four forts.  The victory was gained however at a fearful cost to the regiment.  Its loss was one officer Emery Fisher and seventeen men killed and five officers and one hundred thirty eight men wounded and one missing Lieutenant Colonel Goff among the severely wounded.  Its conduct on this occasion was warmly commended at corps and army headquarters."
During the Siege of Petersburg, the regiment also participated in the Battle of Fair Oaks in October, where it was roundly repulsed by Confederate forces and sustained heavy losses.  The regiment was also present at the fall of Richmond in April 1865, and was rewarded for its commendable service by being elected to participate in President Lincoln's funeral ceremony later that same month.
You can read the full summary of the 22nd USCT Regiment's actions during the Civil War as well as see the complete muster roll here.
(Courtesy of Google Books – Samuel P. Bates, History of Pennsylvania Volunteers, 1861-5 (Harrisburg: B. Singerly, 1871), 5: 991-1010.)