Posted by: admin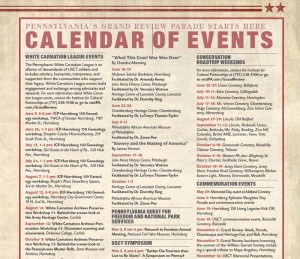 Check out the latest calendar of events for Pennsylvania Grand Review. These events, some of which start in early June 2010, include:
White Carnation League Events – The Pennsylvania White Carnation League is an alliance of descendants of USCT soldiers and includes scholars, humanists, interpreters, and supporters from the communities who support their legacy. White Carnation League events build engagement and exchange among advocates and stewards.
Live and Learn: History Salons and Open Dialogues – Live and Learn book salons and weekends provide immersion experiences for communities engaged in interpreting and presenting Underground Railroad experiences. This year's theme examines African American Patriots and the Civil War.
Open Dialogue! – "Lincoln and the USCT ," Live and Learn scholars moderate a dialogue with historians Harold Holzer and James Horton.
USCT Symposium at the Pennsylvania State Museum in Harrisburg
You can download the complete calendar of events here.