PUBLIC MEMORY AT DICKINSON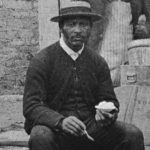 Young was the longest serving employee of Dickinson College for most of the institution's now 235-year history.  From the 1860s to the 1910s, he worked as a servant in the president's household, a janitor, and a campus policeman.  For decades, he was also a renowned figure in Carlisle, a pious church leader and defiant civil rights activist.  Perhaps most important, the Young family helped to integrate several educational institutions in the area, including Dickinson itself.   Yet Robert Young has not remembered by the modern institution at all, and often gets overlooked or misidentified in photographs that remain from his era.
---
BRIEF PROFILE
Robert C. Young began appearing in the federal census records in Carlisle in 1870 and he and members of his growing family kept appearing there together until the 1920s.  The federal census takers usually recorded Young as  a "mulatto" or mixed race resident originally from Virginia, but sometimes they defined him simply as black.  Recollections by Dickinson students identified Young as a former slave from  the William Smith plantation in Charlestown (now Wellsburg) in Brooke County, VA (now WV).  Matilda Humphries Young was the wife and mother in the Young household, with children, Robert G. Young (b. 1871), George (b. 1872), Henry (b. 1874), Annie (b. 1877), William (b. 1878), James Garfield (b. 1882), Emma (b. 1885), and Joseph (b. 1887).  Beginning in the 1880s, local Carlisle newspapers always referred to Young as a leader of the black community in town.  He fought for civil rights and integration.  The case involving his efforts in 1886 to get eldest son Robert G. Young into Dickinson made national headlines. For many years, he was also deacon in the Shiloh Baptist Church and a leader in regional black fraternal organizations.   He was certainly a longtime employee at Dickinson, including several years as a "policeman" in charge of security around the campus.  In that position, he frequently appeared in the local newspapers involving various disturbances and minor crimes. And eventually, in 1922, he was honored with burial at Union Cemetery.
There was at least one Young family member who did graduate from Dickinson College.  Charlotte Young (McStallworth), the daughter of James Garfield Young and his wife Mary Jane Jackson Young (who had attended Dickinson preparatory school) graduated from the college in 1934.  Charlotte married, became a public school teacher in Ohio, and eventually died in Las Vegas, Nevada in 2011.
---
FURTHER READING
Thompson, Naji. "Memorial Park – Lincoln Cemetery." Social Justice in the African American Imagination, Spring 2016 [WEB]
---
IMAGE GALLERY
All images courtesy of the House Divided Project at Dickinson College with original publication details available inside our research engine
---
PRIMARY SOURCES