September 17, 2018 | Constitution Day panel on fugitive slave law
December 11, 2018 | Student presentations for History Department
February 1, 2019 | Exhibit opening for Dickinson and Slavery
March 23, 2019  |Teacher workshop and keynote address
---
9-17-18 | Constitution Day
On Monday, September 17, 2018, the Clarke Forum for Contemporary Issues and the House Divided Project co-sponsored a special panel to commemorate U.S. Constitution Day.  The discussion, entitled, "The Fugitive Slave Law and the Crisis Over Immigration Policy: Assessing A Forgotten Legacy," featured noted historians Richard Blackett (Vanderbilt University), Andrew Delbanco (Columbia University) and Judith Giesberg (Villanova University) with Dickinson College professor Matthew Pinsker serving as moderator.  The 90-minute live-streamed session was held at the ATS auditorium, beginning at 7pm. The controversial 1850 Fugitive Slave Law provoked a bitter national debate over open borders, due process, family separation federal power and northern states' rights. It also involved Dickinson College, because the nation's most aggressive fugitive slave commissioner (Richard McAllister) was a graduate of the institution. Our panelists discussed the earlier controversies surrounding the law and assessed how they might offer important insights or perspective for the current and increasingly intense debates over Trump Administration immigration policies.
Logistical Details
Date & Time: Monday, September 17, 2018 at 7pm
Location: Anita Tuvin Schlechter (ATS) auditorium
Topic:  The Fugitive Slave Law and the Crisis Over Immigration Policy
Panelists:  Richard Blackett, Vanderbilt University, Andrew Delbanco, Columbia University, Judith Giesberg, Villanova University, and Matthew Pinsker, Dickinson College (moderator)
12-11-18 | Student Presentations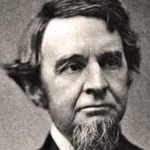 On Tuesday, December 11, 2018, history majors at Dickinson and interns from the House Divided Project presented findings on key figures from nineteenth-century college history, including noted abolitionist James Miller McKim, professor John McClintock, and notorious fugitive slave commissioner, Richard McAllister.  McKim, in particular, will be the featured subject of the December presentations.  He is currently the subject of an History honors project by senior Becca Stout.  Although McKim is a relatively obscure figure today, he was a prominent antislavery leader and progressive organizer in the nineteenth century.  McKim graduated from the Class of 1828, became a noted abolitionist orator (part of the legendary Band of Seventy) and helped lead the Pennsylvania Anti-Slavery Society for decades.  McKim was a critical figure involved in the famous escape of Henry "Box" Brown in 1849.  He was also part of the entourage who helped Mary Brown recover and later bury her husband John Brown's body after his execution near Harpers Ferry, Virginia in 1859.  During the Civil War, McKim was a leader in the freedmen's relief effort, even traveling to South Carolina to meet with former slaves.  After the conflict, he continued to press for aid to the freed people, civil rights for all, and for sectional reconciliation.  He also became a founder of The Nation, a leading progressive periodical that continues to be published today.  McKim died in 1874 in New Jersey, remembered at the time of his death as one of the nation's most influential and effective abolitionists and civil rights reformers.
Logistical Details
Date & Time: Tuesday, December 11, 2018 at 12pm
Location:  Denny 317
Topic:  Presentations by History majors and project interns
Presenters:  Sarah Aillon, Amanda Donoghue, Frank Kline, Becca Stout, Naji Thompson, and Cooper Wingert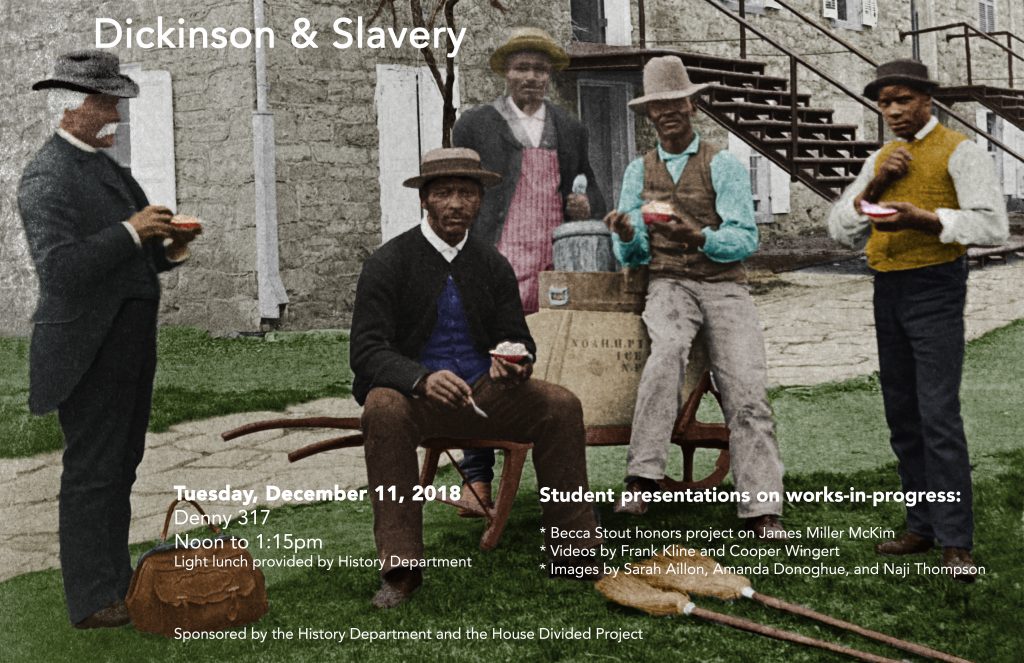 ---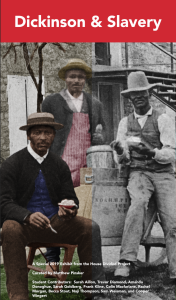 On Friday, February 1, 2019, there was a public exhibit opening in the House Divided Studio at 61 N. West Street.  The new "Dickinson and Slavery" exhibit will feature special panels that commemorate the college's ties to slavery as well as provide an extended discussion about the former slaves and descendants who later became an essential part of the Dickinson community following the Civil War.  Visitors will learn, for example, about the remarkable story of Robert Young, the longest serving college employee of the nineteenth century.  Young was a former slave who fought to get his eldest son admitted to the college in the 1880s, during a period when integration of American higher education was still rare and considered controversial.  They will discover new details from the life of Henry W. Spradley, a former escaped slave, Union army veteran, and longtime college janitor, whose death in 1897 was marked on campus by canceling classes and holding an all-community memorial service.  And finally, visitors will experience the sometimes-complicated affection that generations of Dickinson students held for a former enslaved man, Noah Pinkney, and his wife Carrie ("Aunt Noah"), who provided food and refreshments on the west side of Carlisle into the early twentieth century.
---
3-23-19| Teacher Workshop
On Saturday, March 23, 2019, the House Divided Project is planning to host a Saturday teacher workshop for K-12 educators that will be designed to help share information and new resources about the teaching of slavery and its legacy.  Using the experiences of Dickinson College and its ties to slavery as a starting point, presenters will demonstrate a variety of new multi-media tools and specially designed lesson plans that will cover a host of key topics connected to the rise and fall of American slavery.  The event will culminate with a reception and an evening keynote address.
This workshop on slavery represents the culmination of several years of service here at Dickinson providing free training to a national network of social studies educators.  In 2007, the House Divided Project hosted a special symposium for classroom teachers on the anniversary of the Dred Scott Case featuring scholars Akhil Reed Amar (Yale), Steven Hahn (Penn), and Lea VanderVelde (Iowa).  In 2008, the subject was the Lincoln-Douglas Debates and the participating guest scholars included Mark Neely (Penn State) and Robert Engs (Penn).  For a few summers, we also hosted an NEH Landmarks of American History and Culture workshop for teachers on the Underground Railroad.  Those busy sessions included special presentations from a wide array of historians, including Fergus Bordewich (independent), Catherine Clinton (UT-San Antonio), Spencer Crew (George Mason), Jonathan Earle (Kansas), Kate Clifford Larson (independent), James Oakes (CUNY), Andrew Torget (UVA), and Tracey Weis (Millersville).  Most recently, in March 2016, we organized a major conference on the 150th anniversary of Reconstruction, featuring historian Eric Foner (Columbia) as keynote speaker, with panel discussions and presentations from other noted scholars such as Gregory Downs (UC / Davis), Jeffrey Rosen (National Constitution Center), and Anne Sarah Rubin (UMBC).
Full video of the 2016 conference on Reconstruction is available here
Google Arts & Culture
House Divided sites
Student Projects
---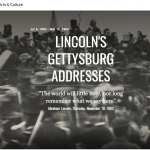 The House Divided Project has curated two slavery-related online exhibits for Google Arts & Culture.  The first, 
Lincoln's Gettysburg Addresses
(2013), was featured on the Google landing page on the 150th anniversary of the Gettysburg Address.  The exhibit, curated by project director Matthew Pinsker, helps explain the little-known origins of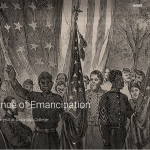 Lincoln's phrase, "new birth of freedom."  The second exhibit, 
Prince of Emancipation
(2016), co-curated by Sarah Goldberg ('18) and Matthew Pinsker, offers a fascinating account of a former slave named Prince Rivers whose compelling life story practically embodies the stirring promise and ultimate betrayal of black freedom during the Reconstruction period following the Civil War.  
We also recently collaborated with the Gilder Lehrman Institute of American History for their Google Arts exhibit on
The Dred Scott Decision and Its Bitter Legacy.
---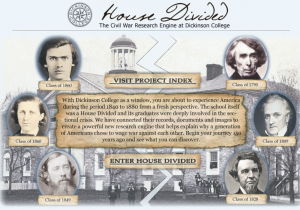 Since academic year 2005-06, the House Divided Project at Dickinson College has been developing websites and online exhibits designed to help K-12 and undergraduate classrooms teach the broader Civil War era.  Several of our most important and popular sites concern American slave
ry and its legacy.  The place to begin, however, is at our main research engine, which includes tens of thousands of historical records and public domain images. 
The research engine encourages browsing day-by-day (the interface immediately puts the user back 150 years ago to the materials from that date), but you can also easily search by various categories, including Major Topics.  There are relevant topic categories for
Slavery
and
Dickinson College
, as well as for 
Dred Scott Case
,
Emancipation
,
Freedmen's Bureau
,
Fugitive Slave Law
,
Reconstruction
,
Underground Railroad
,
USCT
and many others.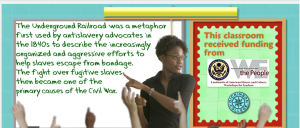 Other exhibits from House Divided that offer special insight into the rise and fall of American Slavery include our digital classroom series, with sites devoted to the
Lincoln-Douglas Debates
, 
Underground Railroad
and
Emancipation
.  The Emancipation Digital Classroom also includes a special
Unofficial Teacher's Guide to Spielberg's "Lincoln" (2012)
–a remarkable Hollywood movie about the passage of the Thirteenth Amendment.  We also have a separate site devoted to a multi-media edition of
Lincoln's Writings
, which includes 150 of his most teachable documents, many of which concern slavery.  In 2011, we partnered with the OAH Magazine of History to create a
web supplement
for an issue devoted to exploring the causes of the Civil War and the extent to which slavery was behind the conflict.   The year before (2010), we also partnered with the National Civil War Museum to create
an exhibit
about the letters of a Texas slaveholder and reluctant Confederate soldier named William Elisha Stoker.   2010 was a busy year.  We also created
a partnership site
that summer with a variety of state agencies and black heritage groups commemorating the 1865 "Grand Review" of black troops that occurred in Harrisburg, Pennsylvania.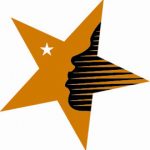 Currently, the House Divided Project is partnering with the National Park Service and its Network to Freedom Program on a special project examining the concept of "slave stampedes" or mass escapes along the Missouri borderland.  You can learn more about this ongoing research effort at our
project blog
.
---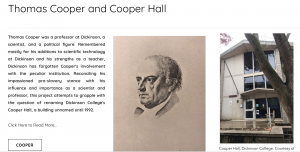 Several undergraduates at Dickinson College have been working on slavery or slavery-related online projects in recent years.  Participants in the "American Slavery" seminar, for example, have created a series of compelling websites on Dickinsonians associated with slavery.  Rachel Morgan produced a website about college founder
Benjamin Rush
and his complicated relationship with slavery.  Morgan also built a website on Mary Johnson Dillon, the daughter of Dickinson's wartime president, and her experiences during the Civil War, entitled: 
Mary Dillon's Carlisle
. Becca Stout detailed the pro-slavery views of former Dickinson professor
Thomas Cooper
and the strange story behind how a student residence hall got named after him in the 1990s. Cooper Wingert produced a web exhibit about
Richard McAllister
(Class of 1840), who became one of the nation's most notorious fugitive slave commissioner in the 1850s. Most recently, Maeve Thistle built
a web exhibit
for a freshman seminar on "Dickinson & Slavery" about John Taylor Cuddy, a young Union soldier from Carlisle who actually opposed the Emancipation Proclamation.  Rachel Morgan also built a website as
Other Dickinson students have been working to create teaching resources in support of the "North American Slave Narratives" collection from Documenting the American South (University of North Carolina).  These freely available full-text recollections by American slaves are being annotated by students in Prof. Pinsker's classes, with short, blog-post style summaries accompanied by custom-made Google maps that include helpful images and text excerpts from the original narrative.  We currently have posts available for reminiscences by ex-slaves Josiah Henson (by Maria Villotti),  
Harriet Jacobs
(by Rachel Morgan), 
Paul Jennings
(by Jack Lodge), 
Elizabeth Keckly
(by Abigail Stasior),
William Parker
(by George Gilbert), 
Mary Prince
(by Lauren Benton),
Susie King Taylor
(by Michael Borsch),
Booker T. Washington
(by Matthew Pinsker), and
James Williams
(by Cooper Wingert).
Students at Dickinson have also been creating short video documentary films about slavery-related subjects.  One of the most intriguing of these efforts has been an investigative feature produced by Colin Macfarlane (Class of 2012) on
Henry W. Spradley
, an escaped slave who eventually became a beloved employee at Dickinson College.  In 2009, Don Sailer also created a compelling narrative of a Texas slaveholder named
William Elisha Stoker
.  David Park helped narrate and produce a succinct documentary on the
Lincoln-Douglas Debates
.  More recently, Rachel Morgan and Sam Weisman produced a short film about secessionist students on the eve of their departure from Dickinson in April 1861, and the
Autograph Book
that they signed for a Pennsylvania friend.  But we have also had several excellent short biographical films on Dickinson graduates from the sectional era, including President
James Buchanan
 (by Trevor Diamond), abolitionist
Moncure Conway
(by Sam Weisman), fugitive slave commissioner
Richard McAllister
 (by Cooper Wingert), antislavery professor
John McClintock
 (by Frank Kline), and pro-slavery jurist
Roger B. Taney
 (by Sarah Goldberg).

In addition to the film about Henry Spradley (above), we have also seen a number of students produce sophisticated multi-media work about Reconstruction and the legacy of slavery. Ryan Schutte created a compelling narrative post and video to describe the horrors at Eufaula, Alabama during the 1874 elections. More recently, Sarah Goldberg built a wide-ranging website to accompany her honors thesis on Temperance Reform in post-bellum Atlanta.