PUBLIC MEMORY AT DICKINSON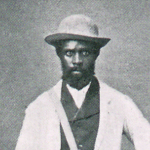 Sam Watts served as a janitor at Dickinson alongside his older brother Henry for many years, from the 1850s through the 1870s. He was photographed in a memorable fashion by a faculty member during the Civil War and was much later featured in some droll reunion recollections, but otherwise he has not been remembered on campus for his long and sometimes-tumultuous service.
---
BRIEF PROFILE
When it comes to public records, the trail of evidence on Sam Watts is somewhat confusing. Some records indicate that he was born in Virginia, but others have his nativity in Maryland. Some date his birth to 1830, but different records suggest he was born later during the 1830s. Some note his race as black, while others describe him as mulatto. It appears, however, that Watts was most likely born to formerly enslaved parents Valentine and Violet Watts in Carroll County, Maryland. The Watts family was quite large; Sam had several older and younger siblings. The growing clan eventually settled in Adams County, Pennsylvania sometime in the late 1840s. Initially, Sam and one of his older brothers Henry went to work as waiters at a boarding house associated with the Lutheran Seminary in Gettysburg. Soon, however, they found employment as janitors and waiters at Dickinson College in Carlisle. College ledgers reveal payments to "Judge" Henry Watts and his brother Samuel as early as 1853. One student's diary from December 1857 also records being "awakened by Watts" one cold morning. Professor Charles F. Himes, an amateur photographer, then took a series of stereographic views of both brothers with their janitorial equipment in 1862 (though the one of Sam Watts was mislabeled as Samuel Water, sub-janitor). Sam Watts married a women named Martha, who worked as a washerwoman in Carlisle, sometime in the late 1850s. They had at least four children: Agnes (b. 1856), Laura (b. 1858), Henry (b. 1862), and Nelson (b. 1867). But the couple eventually divorced during the 1870s, and by 1880, Watts was listed as indigent and disabled by chronic rheumatism, living without his family in the Carlisle poor house. What happened to him is something of a mystery, but he was clearly finished working at Dickinson by the spring of 1877. By May of that year, local newspapers were describing him as unemployed as they reported on how he had gotten badly burned during an accident near a factory in Harrisburg. In their 35th reunion pamphlet, the Class of 1870 seemed unaware of these tragedies and gleefully recalled Sam as "an inveterate user of tobacco" who chewed the stuff so vigorously that the college president reportedly declared, "It is my opinion that he eats tobacco." The students also recalled that Watts served as janitor for East College, while his brother managed the building over at West. They claimed that this division of labor was taken so seriously that Sam once even refused to clean a room in West, remarking, "I never labors outside of my own diocese." In their memories of the janitors, entitled, "The Corps of Hygiene," the former students gently mocked the appearance, diction and what they considered to be the dual pretensions of "Judge" Watts and his younger brother Sam. They particularly made fun of Sam's favorite oversized linen duster which gave him, in their opinion, "a most ludicrous appearance." The date of Sam's death so far remains uncertain.
---
FURTHER READING
---
IMAGE GALLERY
---
PRIMARY SOURCES