PUBLIC MEMORY AT DICKINSON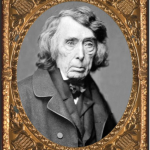 For years, the school displayed both a portrait of Chief Justice Taney originally received in 1908 during its 125th anniversary celebration and a bust of the controversial jurist, but those objects have long since been moved into the College Archives. There is, however, a photographic portrait of Chief Justice Taney currently on display at the House Divided studio, paired with one of President James Buchanan, and situated opposite an illustration of Dred and Harriet Scott, the black couple whose rights Taney dismissed in his infamous verdict on their 1857 Supreme Court case.
---
BRIEF PROFILE
Roger Brooke Taney, a graduate of Dickinson College, might well be the most controversial Supreme Court justice in American history. Taney served as Chief Justice of the United States for nearly thirty years, from 1835 to 1864. But this was a period of bitter sectional controversy over slavery, and Taney's pro-slavery decisions have since seriously tarnished his reputation. Originally from Maryland, Taney had been a slaveholder until he emancipated his own slaves in 1818. But the Border State judge considered himself a nationalist above all else, and angrily blamed abolitionists for ripping the country apart. So he thought he could save the union with the Dred Scott case of 1857, by rendering a sweeping pro-slavery verdict. The reaction, however, was the opposite of what Taney had expected. By 1860, his ruling against the Scott family had helped elect Abraham Lincoln, an anti-slavery Republican, as president. The aging chief justice then battled fiercely against the aggressive new commander in chief over war powers and other issues. Taney finally died at age 87, in the final months of a bloody Civil War that he had in several ways helped to ignite.
Video produced by Sarah Goldberg (Class of 2018)
---
FURTHER READING
Huebner, Timothy B. "Roger B. Taney and the Slavery Issue: Looking Before –and Beyond—Dred Scott." Journal of American History 97 (June 2010): 17-38 [JSTOR]
---
IMAGE GALLERY
All images courtesy of the House Divided Project at Dickinson College with original publication details available inside our research engine and here
---
PRIMARY SOURCES
Manumission papers for Slave Clarissa (?), May 31, 1826, University of Maryland Archives [WEB]
Selected writings (available online):

RBT to Caleb Cushing, November 9, 1857, Library of Congress, [WEB]

Expressing thanks for Cushing's support of the Dred Scott decision

RBT to Samuel Nott, August 19, 1857, in Robert C. Winthrop (ed.), Proceedings of the Massachusetts Historical Society 12 (1871): 445–447, [WEB].

Taney reveals in this letter his paternalistic attitude towards African-Americans by noting that after years of observing "the character and capacity of the African race," he firmly believed that "a general and sudden emancipation would be absolute ruin to the negroes, as well as to the white population."

Tyler, Samuel, ed. Memoir of Roger Brooke Taney. Baltimore, MD: John Murphy, 1876. [WEB]

This "memoir" includes both a partial life sketch written by Taney as well as selected letters and other writings.