PUBLIC MEMORY AT DICKINSON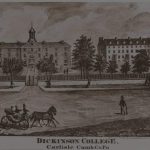 There is currently no public recognition of any enslaved labor used to build Old West (or its initial iteration known as New College), or any of the other buildings on campus which date to the early nineteenth century. "Black" James was one of the enslaved men who was hired out to help construct the original buildings on campus, starting in 1799.
---
BRIEF PROFILE
While Dickinson College did not own any enslaved people, local slaveholders hired out their slaves to the college. We know for certain that Carlisle slaveholder John Holmes hired out his slave James to the college in 1799. The school's records refer to him as "Black James, Mr. Holmes' Negro." When Holmes journeyed to Baltimore on behalf of Dickinson that year, James accompanied him. Upon their return, Holmes billed Dickinson for 16 days of James's time. Later, James was hired out to work on the construction on campus. More Cumberland County slaves were likely involved in the construction. In 1799, a man referred to as "Black Ned" was also paid for work, but his status (as free or enslaved) is left unspecified in the college records. Later, in the construction of West College, John Welch, a slaveholder from neighboring Franklin County, supplied wooden posts. Similarly, Charles McClure, a slaveholding trustee from from nearby Middleton township, agreed to deliver 3,000 bushels of sand. Both men surely used enslaved labor in providing their services to the college.

---
FURTHER READING
---
IMAGE GALLERY
---
PRIMARY SOURCES
Bill of John Holmes, April 16, 1799, RG 1/1 Board of Trustees Papers, Series 6.4.33, Dickinson College Archives & Special Collections;
Payment to "Black James, Mr. Holmes's Negro," July 26, 1799, Financial Ledger, RG 1/1 Board of Trustees Papers, Series 6.1.1, Dickinson College Archives & Special Collections
Special thanks to CoryYoung, PhD candidate in history at Georgetown University who first discovered the entries for "Black James."