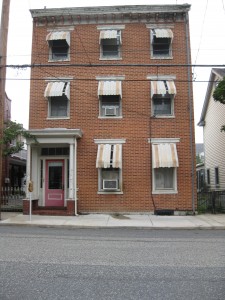 James Smith Colwell, a 48-year-old who worked as a lawyer in Carlisle, Pennsylvania, was one of the oldest men in the region who answered President Abraham Lincoln's call for 75,000 volunteers after Confederate forces fired on Fort Sumter on April 12, 1861. Colwell joined the Carlisle Fencibles, a local volunteer company under the command of Robert Henderson, as a first lieutenant. Six weeks later the Fencibles left Carlisle for Camp Wayne in West Chester, Pennsylvania, where they received training and were designated Company A of the 7th Regiment, Pennsylvania Reserve Corps. His wife, Ann, had not been happy with that decision. "You left me without talking about it," as Ann reminded him. While James admitted that "[he] err[ed] frequently," he observed that "it [was] nearly always an error of the judgment & not of the heart." Yet in this case he argued that it was impossible to get out of the army. "I do not see how I could get out of the service without bring[ing] disgrace and dishonour on myself & my little family," as Colwell explained. Colwell had in mind his four children – two sons and two daughters. Colwell's oldest daughter, Nannie, was about six years old in December 1861 when she announced in her "first letter" that she "[could] read" and "[sent him] a big kiss." Colwell was able to return to Carlisle on furlough, but on September 17, 1862 he died during the Battle of Antietam. Local newspapers published obituaries, including the Carlisle (PA) American, which noted that "[Colwell's] high moral character and exemplary life had made him a bright example in our midst."When Civil War veterans in Carlisle established a local chapter of the Grand Army of the Republic in February 1881, they decided to call it the Captain Colwell Post.
The Colwells are important to Carlisle's Civil War history but their story was largely forgotten until recently.   The couple's great-grandson David Colwell compiled nearly two hundred of their letters from the war in the 1990s and published them in a wonderful book entitled The Bitter Fruits.
The Colwell family's house was located at 145 South Pitt Street in Carlisle, PA.
---