Posted by: admin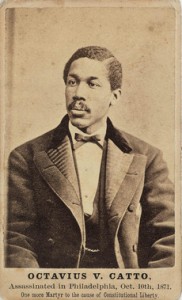 Temple University professor Dr. Andy Waskie has posted a useful profile of Octavius V. Catto, an  ardent advocate for equal rights for blacks in Philadelphia during and after the Civil War. Catto was also instrumental in recruiting some of the first African American regiments for the Union army. He was assassinated in Philadelphia on an election day in 1871 while attempting to bring more African Americans to the ballot box.
Catto was a fervent believer in the value of education, and founded the Banneker Literary Institute in Philadelphia to promote intellectual activism for young African Americans.
Waskie's profile also describes roles played by pivotal figures in Catto's life such as Union General Darius Nash Couch and fellow abolitionist Frederick Douglas.