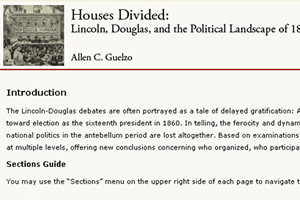 AP US teachers should find the
Teaching the Journal of American History
site a great resource for their classes. Allen C. Guelzo's article on the Lincoln Douglas Debate, which was published in the September 2007 issue, is available (no subscription required) along with the author's suggestions for teaching it.
Five activities
are available that ask students to answer questions based on information from the article as well as their interpretation of primary sources. Each activity has links to these sources for students to use. Even if you do not have students read the Guelzo's article, you should still check out the
other resources
that are available, such as the five maps that track where in Illinois Abraham Lincoln and Stephen Douglas went between August and October 1858. This article is the only one from the House Divided era, but others are available on topics such as the
Scopes Trial
.