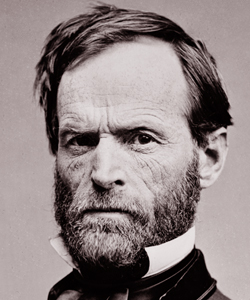 General William T. Sherman's March to the Sea, also known as the Savannah Campaign, began on November 15 when Sherman's forces left Atlanta, Georgia. The Confederate defeat at Savannah on December 21, 1864 marked the end of the campaign. Teachers can find an overview of this campaign in Professor Anne Bailey's entry on the New Georgia Encyclopedia. The Library of Congress also has a number of related resources, including battle maps, photographs, and illustrations. In addition, the Digital Library of Georgia has all of the  images from  Barnard's Photographic Views of the Sherman Campaign (1866), including several pictures of Savannah. Lt. Cornelius C. Platter's diary, which was noted in an earlier post, is another resource that offers an interesting perspective on a Union officer's experience. Platter, who served with the 81st Ohio Infantry Volunteers, added an entry on almost every day of the campaign. As his company prepared for their "marching orders" in early November, Platter described:
"Many different opinions have been expressed as to our probable destination – Some think we will make direct for Charleston S.C. others that we will visit Mobile – but the most general belief is that Savannah will be the objective point – Nothing definite however is known concerning the coming movement. Received orders this evening to move at six o'clock tomorrow morning – All tents and other government property which we can not take with us to be left standing undisturbed."

continue reading "General Sherman's March to the Sea (November – December 1864)"