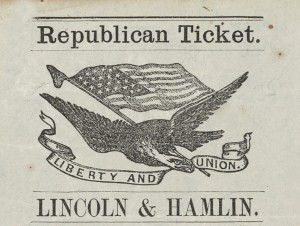 While Abraham Lincoln was elected "by one of the largest voter turnouts in United States history," historian Phillip Shaw Paludan notes that "the Republican victory was entirely sectional." Lincoln and Hannibal Hamblin did not receive any votes from the Deep South states. Yet divisions also existed within northern states, including Cumberland County, Pennsylvania. The election results for Carlisle reflected a deep divide in the community – while Republicans won the town (overall votes in Carlisle West Ward / East Ward), Democrats received the most votes overall in Carlisle District (For more details, see election return tables below). As for Cumberland County, Lincoln received 51.5% of the vote in Cumberland County. These results largely correspond with historians' arguments about urban and rural voting patterns in the 1860 election. While "one might expect to find northern cities to have been stronghold of Republicanism," David Potter argues that "Lincoln received much less support in the urban North than he did in the rural North." Republicans received the most votes by far in the rural precincts of Cumberland County and came very close to losing Carlisle. One can see which precinct Lincoln's party won in the map below — precincts that Republicans won have blank backgrounds. This map was originally published in John Wesley Weigel's "Free Soil: The Birth of the Republican Party in Cumberland County," Cumberland County History Journal (Summer 2000). The full article, along with other essays that explore the political history of the Whigs and Democrats in Cumberland County, are available on this post as PDF files.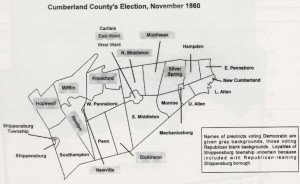 (Click on the map to see larger version)

In addition, you can click the "Continue Reading" link below to see the detailed election returns for Cumberland County, Carlisle District, and Newville District below –
continue reading "Election of 1860 – Cumberland County"