Knox College's Lincoln Studies Center has created a
podcast series
featuring Lincoln scholars and co-directors of the center Rodney Davis and Douglas Wilson. The podcasts give a brief overview of each debate and then commentary and analysis. The podcasts are each no longer than ten minutes in length. Good content for middle school and high school study of the Debates.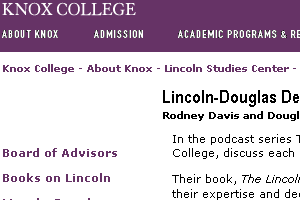 Douglas Wilson's Lincoln's Sword won 2007's
Lincoln Prize
. The book explores the power of Lincoln's writing and his development as a writer by exploring notes, drafts, and speeches written by the president. The House Divided Project provided copies of this book to teachers attending its
June 13th teacher's workshop
at Dickinson College.