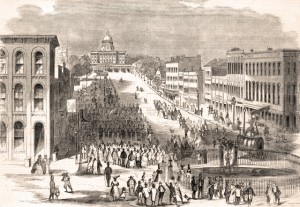 News coverage of the Civil War anniversary spiked this week as various groups commemorated 150 years since Jefferson Davis's swearing-in as Provisional President of the Confederacy on
February 18, 1861
. 
USA Today
offered a
thoughtful overview
of the tensions underlying the impending anniversaries in a piece entitled, "Across the South, the Civil War in an Enduring Conflict," February 17, 2011.  After noting that Davis's parade route in Montgomery, Alabama in 1861 was also near the spot where Rosa Parks refused to accept segregated bus seating in 1955 and thus helped spark the modern-day civil rights movement,
USA Today
correspondent Rick Hampson calls the area, "the Jerusalem of Southern memory."  Hampson then solicited a wide range of provocative comments from scholars such as David Blight and James Loewen and activists such as Mark Potok from the Southern Poverty Law Center and Tom Strain from the Sons of Confederate Veterans before reaching the startling conclusion that, "In some ways, Americans are more divided by the war on its 150th anniversary than they were on its 100th in 1961." Bob Martin, editor of the
Montgomery Independent,
provided a commentary on this division in a column that was
published online
by a local newspaper in Alabama.  In the column, "We can't change history, but can attitudes," Martin argues against what he calls attempts in the South to ignore the painful conflict, pointing out, "those who want to honor the history of their ancestors who served their country from 1861-65 are due the same respect as those in the union states who wish to do likewise." From the other side of the country, the
Colorado Statesman
, a weekly non-partisan newspaper, launched a
sesquicentennial column
this week by amateur historian Patrick Teegarden (and self-described "expatriate of the Border State of Maryland").  Teegarden also commented on the ongoing divisions over commemoration and announced his plans to sketch out the history of the conflict on a regular basis. The BBC provided their own summary of this unfolding debate in an online feature from February 18,
"Civil War: Southerners Remember Confederate President,"
that quotes historians such as Eric Foner and Joshua Rothman, analyzing the continuing arguments over slavery and its role in causing the war. On a local level, the National Civil War Museum in Harrisburg celebrated its 10th anniversary on Wednesday evening, February 16.  Former mayor Steve Reed received an award from The Pickett Society for his "devotion to historical correctness" and the
Patriot News
reported
that the "media came loaded with questions."  The focus, however, was not on the historical Civil War, but rather on the modern-day conflict that has ripped Harrisburg apart during the previous year as the city teeters near bankruptcy.  Reed refused to comment on the struggles of current mayor Linda Thompson, trying his best to steer the attention to the wonderful museum which he helped found.