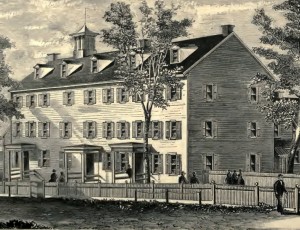 On Thanksgiving day in November 1863 two children whose fathers were killed during the Civil War went to the executive mansion in
Harrisburg
, Pennsylvania and asked for food.
Apparently this experience
inspired Governor
Andrew Curtin
to ask the Pennsylvania legislature to establish an organization to care for orphans of Union soldiers. While legislators did not appropriate the necessary funds, they accepted a private donation to set up an institution
whose mission
was "the education and maintenance of destitute orphan children of deceased soldiers and sailors." Children remained in the system until age sixteen – for example, see
this list
of "Sixteeners" who left in 1877. Schools were set up in
communities across the state
, including the White Hall School in Camp Hill. Professor David Denlinger opened the school in May 1866, but he quickly ran into trouble. As "the building was…unsuitable for a school of this kind," James Laughery Paul
explains
that that "typhoid fever prevailed to an alarming extent in the fall of 1867 and quite a number of deaths occurred." While the school closed in 1890, alumni returned to Camp Hill in 1926 and dedicated a monument in Willow Park (located at intersection of 24th & Walnut Streets). You can learn more about the organization in James Laughery Paul's
Pennsylvania's Soldiers' Orphan Schools
(1876), the
1877
and
1909
Annual Report of the Superintendent of Soldiers' Orphans
, and William Henry Egle's
Andrew Gregg Curtin: His Life And Services
(1895).