The other day, I was asked to come up with a creative way to display an educational project on a social media site, like Pinterest.  I was a little frustrated at how Pinterest limits your "pins" to only pictures—no video, no audio, no linking without pictures.  That's when I remembered running across a site called Storify, which works similar to Pinterest in that you're collecting and archiving snippets from the web, but its purpose is to organize and create a storyboard, using social media like Twitter, Instagram, Facebook, Tumblr, Google +, YouTube, etc.  On top of that, you're able to link to online news sites, images, and SoundCloud.  Rather than just "pinning" these snippets up, you arrange them in some order and actually tell a story.  It's Pinterest 2.0.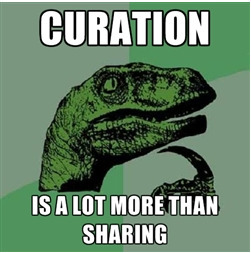 This sparked some interesting questions about how social-media storytelling through a site like Storify could be used to promote learning and creativity in the classroom.  Can social media be used for educational purposes?   That's becoming more and more evident every day, as teachers are encouraging students to contribute to classroom blog sites, create fake "Facebook" profiles for historical characters, or use Twitter to contribute to in-class discussion.  But how can Storify be applied to the classroom in a unique and purposeful way?
To answer that question, I turned to educational experts who have used or planned to use storify.  One teacher uses it to compile materials for her curriculum, claiming, "One of my goals in my classes is relevancy – for the information I teach but also for the course itself."  She finds the most relevant information and catalogues it in one place for her students to easily find, but she also ensures her course is relevant to the digital world by keeping up-to-date with the most recent technologies.
Teacher Tanya Sasser insists that restricting students to "reliable" sources like libraries and subscription databases is hindering rather than helping their research skills.  She thinks researching social media and websites through media like Storify will teach students to sift through information and pick out what's relevant.  "We're ignoring the fact that very few of our students will remain academics once they graduate. If one of our goals is to teach them how to be better informed and more involved citizens, then perhaps we need to shift our focus away from restricted sources of information to the kinds of open sources that will allow them to engage in global and community issues more fully."
Finally, education expert Meghan Daniels created sample Storify projects (akin to what a middle school student could do) for Current Events, History, English, and Science, focusing on the presentation format of Storify.  She suggests adding a public speaking component to the presentation, either in a typical verbal presentation style, or debating current issues with Storify as a kind of digital notebook to back up students' arguments.
My final question is inspired by Robin Wharton's post about the experience of creating a Storify story to collect and present public opinion (from Twitter) about MOOCs: could Storify be used to somehow collect and present student participation in MOOCs?  One of the hotly debated questions concerning MOOCs is how best to measure student success rates.  With our upcoming launch of our first open, online course about Abraham Lincoln, the idea of measuring success not by enrollment, but by collaboration (by students' commenting and asking questions through Quora, adding information to our Lincoln's Writings site, etc.) has been tossed around.  I think Storify offers a workable format for collecting and presenting that information to the online learning community.