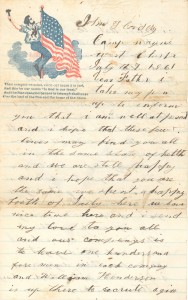 Sixteen-year-old
John Taylor Cuddy
left his home in Carlisle, Pennsylvania to enlist in Company A of the 36th Pennsylvania Infantry on
June 5, 1861
.  Over the next two years, Cuddy wrote 77 letters home to his family describing his experiences as a soldier in the Union army.  
Cuddy's correspondence
is available online as part of Dickinson College's "
Their Own Words
" digital archive.  Over the course of his service in the army, Cuddy wrote his parents full of exuberance to go "
lick the south
" from his training camp at Fort Wayne, with a tempered tone of experience after fighting in the battle of Gaines' Mill, and with a critical analysis of "
old abe['s]
" Emancipation Proclamation.  At the Battle of the Wilderness, which lasted from May 5 to 7, 1864, Cuddy's regiment was captured and sent to
Andersonville
, a Confederate prisoner of war camp in Georgia.  With his capture, Cuddy's letters stopped.  Although John Taylor Cuddy never made it home to Pennsylvania (he died in a prison in Florence, South Carolina on
September 29, 1864
), his correspondence creates a living picture of the life of a teenage Pennsylvania soldier during the Civil War.