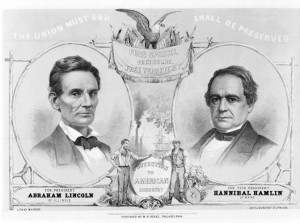 HarpWeek
has an online
collection of political cartoons
from 14 presidential elections between the years 1860-1912.  These cartoons provide a visual insight into the climate surrounding the Election of 1860, and its core issues. 
Some of the cartoons
require a lot of prior historical knowledge, while
others
can be understood with some basic analysis.  HarpWeek has convienently provided an analysis and explanation of each cartoon.  There are other resources as well for the Election of 1860, including an
overview
of the historical context and a timeline of important
events
.  Any of these political cartoons would be beneficial to a classroom discussion of this crucial election. 
This webpage
provides a useful guide to using editorial cartoons in the classroom.