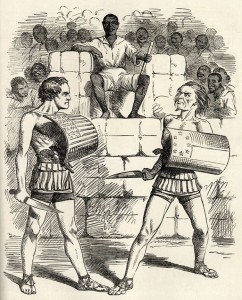 While
previous posts
have discussed political cartoons from American publications like
Harpers Weekly
,
Punch
was a popular periodical in England. Art Historian Allan T. Kohl works at Minneapolis College of Art & Design and has put together an
interesting collection
of
Punch
's "principal cartoons" related to the Civil War. Weekly editions "featured a principal cartoon, sometimes called the "big cut," commenting on a significant event or issue," as
Kohl explains
. Each cartoon includes a short description and one can
browse
this
collection
in several different ways. In addition,
Kohl discusses
the various ways that historic individuals and national symbols appeared in the cartoons. The chief illustrator at
Punch
during this period was John Tenniel (1820-1914) , who also provided the illustrations for Lewis Carroll's
Alice's Adventures in Wonderland
(1865) and
Through the Looking Glass
(1872). You can learn more about Tenniel in Frankie Morris,
Artist of Wonderland: The Life, Political Cartoons, and Illustrations of Tenniel
(2005). Both Google Books (
1862
) and the Internet Archive (
June-Dec. 1860
) have digitized some issues of
Punch
from this period.