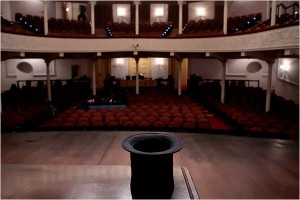 The infamous location of Lincoln's assassination, Ford's Theatre, reopened its doors in February with a dual functionality: theatre and museum. 
The Ford's Theatre Society
along with its partner the National Park Service renovated the historic Washington DC landmark, adding a 7,000 square foot exhibit which memorializes Abraham Lincoln, and restoring the theater to its appearance on the evening of April 14, 1865--the night John Wilkes Booth killed Lincoln.  The memorial exhibit offers patrons an opportunity to familiarize themselves with the presidential tenure of Abraham Lincoln through mini exhibits that document his endeavors beginning with his inaugural train ride and ending with his funeral precession.  Additionally, the balcony where Lincoln sat has been completely restored and will remain as a permanent exhibit within the actual theater. If you find yourself planning a tour of our nation's capital, you should definitely add the Ford's Theatre to your list of sites to see.  However, if you don't see yourself making the trip, I suggest you check out the society's
virtual tour
.  For more information you should look over the New York Times'
review
of the theater as well as the accompanying
slideshow
of digital photographs.