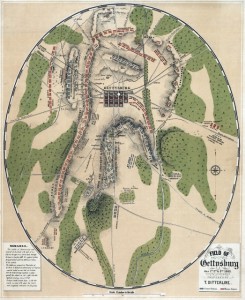 Early on the morning of July 1, 1863 Union soldiers met Confederate
General Robert E. Lee
in
Gettysburg, Pennsylvania
after his initial invasion into the state. The first of three days of battle centered around Gettysburg and saw a promising start for the Confederate force. Confederates successfully pushed Union soldiers out of the town and left the latter force with one of the only remaining defensive positions in the area – Cemetery Hill – located southeast of Gettysburg. After the fighting ceased around 4:30PM, Union 
General George G. Meade
and other military leaders oversaw the arrival of Union reinforcements and prepared for the next day's battle. Meanwhile, Lee's forces began securing their occupation of the town and planning the logistics for the new offensive strategy the general had undertaken. A broad research engine will yield several thousand resources and images pertaining to the Battle of Gettysburg and its first day of combat. Navigating through these sources only highlights a select few that offer a clear, accurate, and useful resource for lesson plans and scholarly research. Fortunately, the National Archives
collection
of Civil War photographs includes those taken of casualties in the 
battle
and the House Divided record of the battle offers
historical maps
of the area. Military dispatches from the first day contained in
The War of the Rebellion: A Compilation of the Official Records of the Union and Confederate Armies,
as provided by Cornell University's Making of America collection, cover the
preceding day
through to the last dispatch on the evening of
July 1
st
. By combining each of these online resources into a
short film
on the Battle of Gettysburg, the U.S. Army's website offers educators an easily navigable and short exploration of how the battle began and concluded. Some historians separate the first day of combat in Gettysburg from the rest of the battle. Educators and scholars can view many of these close explorations in part on Google Books, including Warren W. Hassler, Jr.'s
The First Day at Gettysburg: Crisis at the Crossroads
(1970) and
The First Day at Gettysburg: Essays on Confederate and Union Leadership
(Edited by Gary W. Gallagher, 1992). More recent publications do not treat the first day as a separate entity, but they expand the historiography of the battle, as seen in Margaret S. Creighton's
The Colors of Courage: Gettysburg's Forgotten History
(2005) and its
focus
on immigrants and women affected by the battle. For educators searching for modern scholarship on the battle as a symbol of the Civil War and legend in American history, Thomas A. Desjardin's
These Honored Dead: How the Story of Gettysburg Shaped American Memory
(2003) revisits the popular story of the Battle of Gettysburg and the persistent myths one can trace back to the first day of combat.