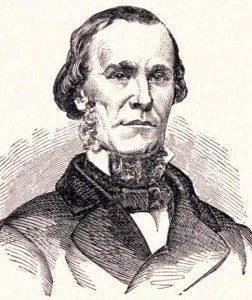 One hundred fifty years ago
today
the Chicago (IL)
Tribune
published an excerpt
from the Savannah (GA)
Republican
that described a new controversial order from Georgia
Governor Joseph E. Brown
. If the Confederate War Department wanted to move any Georgia regiments out of the state, Governor Brown required that they first seek his permission. As "the Confederate States have existed but for a day," the Savannah
Republican
explained that they had no choice but to "rely upon the several States" for men and supplies. Yet Governor Brown's order came at the worst possible time. As the Savannah
Republican
argued
:
"Governor Brown may be technically right in this order; but he has, at least, selected an unfortunate time for issuing it. From the beginning a misunderstanding seems to have existed between him and the Confederate authorities to be found with no other State, and it is high time it had been brought to a-close. It has been a source of serious confusion and embarrassment in all our movements for defence, and it allowed to continue, will wholly demoralize the service."
You can read more about Gov. Brown in Joseph H. Parks'
Joseph E. Brown of Georgia
(1977).