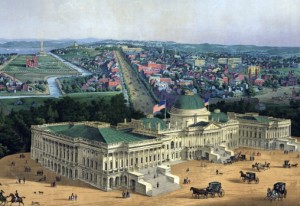 One hundred fifty years ago
today
C. P. Kirkland, Jr.
wrote home
and described his journey from
New York City
to
Washington DC
. Kirkland was a member of the 71st New York Infantry and his regiment had been sent to defend Washington DC after the attack on
Fort Sumter
. The 71st New York had to endure a number of hardships on their trip, including poor quality of food. In New York Kirkland boarded the
R. R. Cuyler
, which as
Kirkland described
, "was very filthy, redolent of decayed meat, [and] bilge-water." The soldiers' rations were even worse. "The eating was perfectly disgusting – the junk was served out to the men from
the hands of the cook
," as Kirkland noted. While he "could not touch it" at first, Kirkland explained that he eventually "reconciled to it" and was now "capable of eating any thing." After this experience, Kirkland noted that he would never "complain about dirty water, molasses, or any thing else, that may have a few hairs, croton bugs, or any such thing in it." Yet despite their "sufferings," Kirkland observed that the men of the 71st New York "are sustained by the conviction that we are actuated by the spirit of a pure and a holy patriotism, and that our course is approved by all the good on earth, and by our Father in Heaven." After Kirkland's regiment disembarked in Annapolis, they continued on to Washington DC. You can read Kirkland's
entire letter
on House Divided. In addition, you can learn more 71st New York Infantry Regiment from the sources listed on
this unit bibliography
from the
U.S. Army Military History Institute
in Carlisle, Pennsylvania.