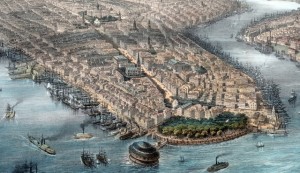 New York
"is one of the most unhealthy cities on the globe" and, as the Lowell (MA)
Citizen & News
explained
in March 1859, "the unhealthiness of the city" had once again "attract[ed] the attention of the legislators at Albany." Two years later the situation in that city had not improved. After the health officer for New York City released a report in early 1861,
James Gordon Bennett's
New York
Herald
examined
several of "the secret sources of excessive disease and death." The
Herald
believed that while their city was "naturally more healthy than" any other one in North America, they noted that the "excessive mortality" rate did not reflect that fact. While the "filthy conditions" was an obvious "source of mortality," other important factors included the lack of vaccination. The
Herald
argued that the city should follow the example of other countries like Sweden and enact "a compulsory law for vaccination." If "the vaccination [for smallpox] has been perfectly performed," the
Herald
explained
that "the mortality is found to be uniformly reduced to less than one in every two hundred cases." Immigrants were also identified as a cause of the "excessive mortality." "Most of the children who die under one year of age are the offspring of foreigners" who had "recently arrived" in the United States, as the
Herald
claimed. Other factors included abortions through "violent means" and those "killed…by quack medicine." Yet not all cities faced this kind of health crisis.
An editorial
in the Cleveland (OH)
Herald
was optimistic as the city's mortality rate had declined even as the city's population increased. "The introduction of pure water in unlimited quantity has doubtless had much to do with the improved sanitary condition of the city," as the Cleveland
Herald
explained.