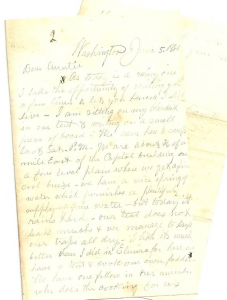 Soldier Studies
is a free online database that contains over 1200 Union and Confederate soldiers' letters between 1860 and 1865. Each soldier has a profile with key biographical information and links to all of their letters in the collection.
Some profiles
also include photographs and short essays about the soldier. For example, Soldier Studies has four letters by
Henry H. Hitchcock
, who served in Company A of the 12th New York. In June 1861 Hitchcock's regiment was in Washington DC. After he saw the "post office, treasury building, White House, Smithsionian Institute, [and] the Washington Monument,"
Hitchcock explained
that he "never saw too much before in so short a time" and "had no idea of the splendor of the public buildings here." You can also browse this collection by
subject
, search by
keyword
, or see the
full list
of soldiers' who have profiles. Check
this page
for the latest updates to the site. In addition, Soldier Studies has several resources available for teachers, such as the "
American Civil War Soldier WebQuest
." The site also has a collection of articles on a number of different topics, including "
Caring for the Men: The History of Civil War Medicine
" and "
Civil War Pensions
." Soldier Studies was created by Chris Wehner, a high school history teacher in Colorado, and Devin Watson.