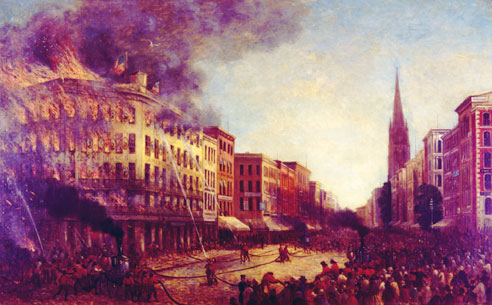 On July 13, 1865 P. T. Barnum's American Museum in New York City burned down and the
Lost Museum's interactive online exhibit
allows you to figure out who is responsible for the crime. Before you start the investigation, it helps to
watch the video introduction
or at least read
this overview
of the exhibit. (You can also just skip the mystery part and
explore
the 3-D museum). The
American Social History Project
at the City University of New York Graduate Center launched the site for use in the classroom and teachers can pick from a number of
different activities
, such as "
The Path to War?
," "
John Brown, Violence, and Social Change
," and "
The Debate Over Women's Roles in Public
." In addition, the
Lost Museum Archive
has a number of different types of primary sources available – these include those related to the "
Sectional Crisis
," "
Amusement Devices
," "
Civil War in New York City
," and "
Tom Thumb
." The
essays
are also important since they help put Barnum's museum in context – see especially "
Barnum's American Museum
," Ann Fabian's "
Women in P. T. Barnum's New York City
," and Peter G. Buckley's "
Urban Popular Culture in the Age of Barnum
." Each essay includes links to relevant primary sources. This website was produced in collaboration with the
Center for History and New Media
at George Mason University, which created other digital history resources such as "
Exploring U. S. History
," "
Virginia 400
," and "
Historical Thinking Matters
." You can learn more about the city in Ernest A. McKay's
The Civil War and New York City
(1990).