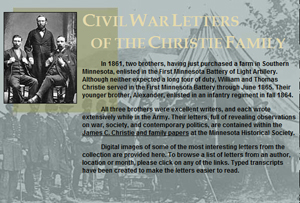 The
Civil War Letters of the Christie Family
at the Minnesota Historical Society offer an interesting perspective from three brothers who served in the Union army.
Thomas
and
William
Christie, who were both born in Ireland, enlisted in the First Minnesota Battery in 1861 and participated in the Vicksburg campaign as well as General William T. Sherman's March to the Sea. Thomas had no difficulty in adjusting to "military life," but noted that other soldiers in his regiment apparently found the transition to be a difficult one. "A great many of our men — and the Americans especially — cannot leave off those habits of Independence, which are so meritorious in the civilian, but so pernicious in the Soldier," as
Thomas observed
. While they described their experiences during the war in detail, they also commented on contemporary political issues. William identified slavery as the cause of the conflict and supported President Lincoln's Emancipation Proclamation. "For lighting the torch of Freedom,"
William wrote
that "the oppressed thoughout the land are this day Praying God to give us the victory."
Alexander
, however, did not enlist until late 1864. After several months of training, his infantry regiment arrived in North Carolina in early April 1865 to participate in what
he considered
"the last great forward advancement of Sherman's Army." In December 2010 the
Minnesota Historical Society
published a collection of these  letters -- Hampton Smith,
Brother of Mine: The Civil War Letters of Thomas and William Christie
(2010). "The letters are so engaging that one longs for more,"as a review in the Minneapolis – St. Paul
Star Tribune
notes. You can read the
full review here
.