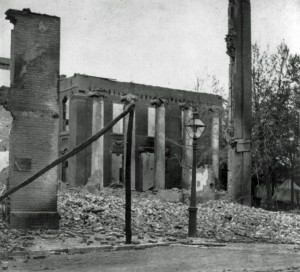 On July 30, 1864 Confederate cavalry under General
John McCausland's
command entered
Chambersburg
, Pennsylvania and demanded that residents pay $500,000 in greenbacks or $100,000 in gold. Confederates planned to use the money to compensate Virginia residents whose homes in the Shenandoah Valley were burned by Union General
David Hunter's
troops. After Chambersburg residents refused to pay, General McCausland followed General
Jubal Early's
orders and burned the town. (
this map
shows which sections of the town were burned). General McCausland's forces left the following day with Union cavalry in pursuit.
Philadelphia
resident Sidney George Fisher heard about the attack on August 1st. Confederates, as Fisher
noted
, had "set fire to the place without giving the people time to carry anything away." Fisher believed that the Confederate actions were the results of the "prolonged" conflict. "The barbarous act shows what a bitter spirit is animating the contest," as Fisher explained. The Bangor (ME)
Whig and Courier
, a Republican paper,
also expressed
"[sympathy for] the suffers at Chambersburg." Yet "if the atrocious outrage shall awake Pennsylvania to the performance of duties she has long and shamefully neglected in her own defense," the editor argued that this incident "will in the end prove to be one of the greatest blessings which has been vouchsafed us since the war began." You can learn more about this attack in Benjamin Schneck's
The Burning of Chambersburg
(1864) and Everard H. Smith's "Chambersburg: Anatomy of a Confederate Reprisal,"
American Historical Review
(1991).